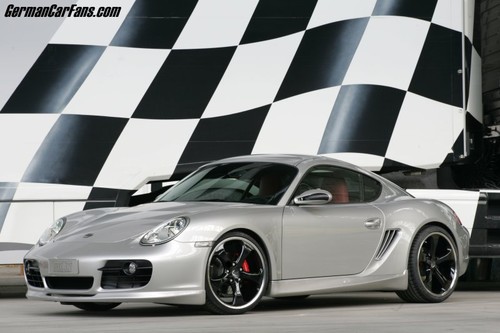 TechArt design studio anounced a new elegantly and aerodynamically efficient program for the Porsche Cayman coupe.
The new front spoiler, lends the front of the two-seater a more dynamic appearance. At high speeds it also reduces lift on the front axle. To optimize the lifting effect on the rear axle and to achieve a more exciting look, TechArt Automobildesign offers a rear spoiler for the Cayman models.
The one-piece Formula wheels are especially light weight and are available for the new Cayman in 17-, 18-, 19- or 20-inch diameters, all T??V-tested. The largest version features 8.5Jx20 wheels with ContiSportContact 2 tires in size 235/30 ZR 20 in front and 11Jx20 wheels with 305/25 ZR 20 tires on the rear axle.
TechArt engine tuning for the new Porsche Cayman is under development.
Similar Posts:
SHARE THIS POST