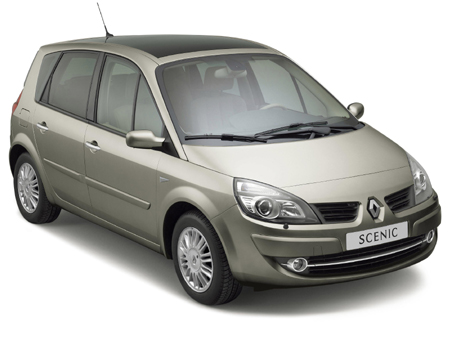 Behold the facelifted Renault Scenic. The Scenic gets updated with the new grille. Tthe lower intake is larger, and the foglights residing in it have been moved further outboard. Headlights are updated to get an "HID look," and the taillights now use LEDs. If the integral paint option is selected, the rub strips and door handles get finished in the same color as the rest of the bodywork.
Renault has improved fit ,finish and durability and incorporated higher-quality materials throughout. Complementing those changes is improved soundproofing aimed at creating a more serene cabin environment when underway.
In the case of the Grand Scenic, the addition of a 5-seat variant that deletes the third row seating means more interior storage capacity for that particular model. New creature comforts now pepper the options sheet, too. These include a CD/MP3 stereo, a fixed panoramic roof, darker privacy glass, and front/rear parking sensors. Additional new convenience options like an automatic parking brake and rain-sensitive wipers also appear as part of the model's freshenng.
Finally, two new engines join the roster of available powerplants: a range-topping 2.0-liter dCi with 150 hp and Sc?Šnic's first diesel automatic, the 1.9-liter dCi FAP Auto (FAP = particulate filter).