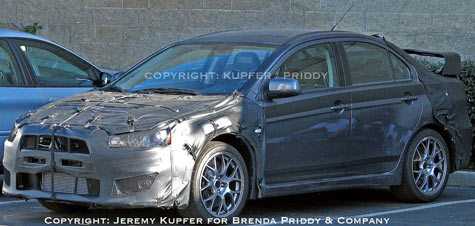 Look at the 2009 Mitsubishi Lancer Evolution X, caught in camouflage on road testing. Even under the camouflage, we can see that the sheet metal on this test car is identical to that of the Prototype X Concept, finally showed the Prototype X Concept at the NAIAS in January.
Officially arriving in the first quarter of 2008, the Evo X will be powered by a turbocharged version of the 2.0-liter I4, and will be equipped with an AWD system ??" complete with stability control.
In the same category as Subaru's WRX, the all-wheel-drive system ??" known as "Super-All-Wheel Control" (S-AWC) ??" may make this the best handling vehicle in its class.