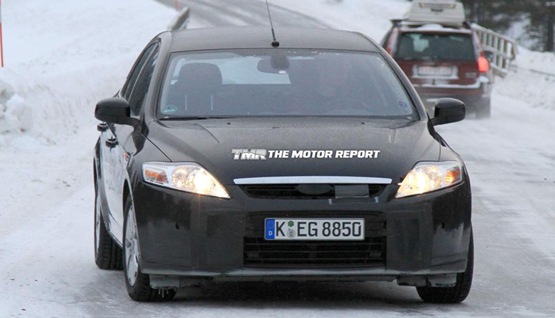 Hot news for Mondeo fans: a lightly camouflaged Ford Mondeo test mule has been spotted in Europe, undergoing cold-weather testing. Now you can see the final facelift for Ford's mid-size sedan.
As you see, the upper grille has been narrowed, while the bumper intakes are likely to take on styling more in-line with the 2011 Ford Focus.

The rest of the new Mondeo appears unchanged. Sheetmetal will remain the same, but new LED taillights will likely feature on the new Ford Mondeo.
No word about powertrain details, output and fuel economy.
Ford's new EcoBoost 4-cylinder engine is a definite contender for the facelifted Mondeo, as is the 2.0 litre turbodiesel and 6-speed Powershift twin-clutch gearbox used by the Ford Focus.
We expect that the facelifted Ford Mondeo to surface at the Geneva Motor Show next March.