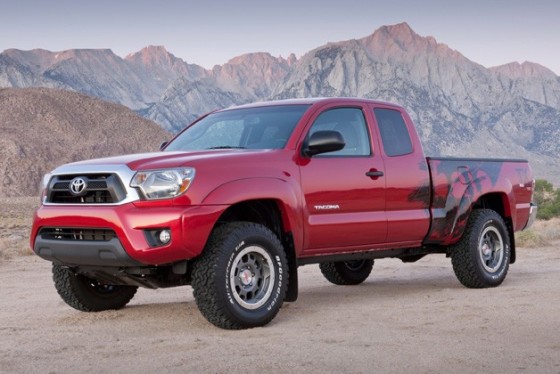 Toyota prices its facelifted Tacoma, which go on sale in May. The new Tacoma Baja Series will start at $32,990, plus a delivery fee of $810. That's for a Tacoma Access Cab model with a manual transmission, the Baja Series package carries an MSRP of $5,015, but you get to subtract $650 in a "factory credit" if you order it, since the Baja's Off-Road Package is cheaper than the standard Tacoma Off-Road Package. Or to make things simpler, figure the Baja Series Tacoma is going to cost you $4,365 more than the same truck without it.
Press Release
TORRANCE, Calif., April 23, 2012 – – Toyota Motor Sales (TMS), USA, Inc., announced prices today for the TRD T/X Baja Series Package. Inspired by Toyota's Baja racing heritage, the truck reveals bold graphics with its name "Baja Series" and enhanced suspension, elevating the capability of Tacoma's TRD Off-Road pickup to a new level of fun and function. The special limited edition package will be available on select Tacoma 4×4 pickup trucks.

The TRD T/X Baja Series Package provides the customer with a great value and high level of capability that is backed by Toyota's standard vehicle warranty. The TRD T/X Baja Series Package is offered at an MSRP of $5,015 less a $650 Factory Credit. There is an additional savings because the package the Baja Series is built on top of, TRD Off-Road Package for the Baja Series, is priced below the regular TRD Off-Road Package.
Toyota has a rich Baja racing heritage that dates back nearly three decades and includes numerous titles at the legendary Baja 500 and 1000. Toyota's desert racing program has inspired the development of numerous TRD off-road focused products and packages over the years including the Tacoma PreRunner and TRD Off-Road packages for both Tacoma and Tundra. Last year, Tacoma's Off-Road Package was enhanced with the launch of the TRD T/X and T/X Pro packages. TRD now takes Tacoma off-roading to the next level with the development of the T/X Baja Series.
The T/X Baja Series will be available on both the Tacoma Access and Double Cab 4×4 models equipped with the TRD Off-Road Package. The Tacoma T/X Baja Series is equipped with a 4.0-liter V6 engine with either six-speed manual and five-speed automatic transmissions. In addition to an electronically-controlled locking rear differential, Active Traction Control (A-TRAC), Hill-Start Assist Control (HAC) and Downhill Assist Control (DAC) currently equipped on the TRD Off-Road package, the limited edition T/X Baja Series adds BF Goodrich T/A KO tires (LT265/70R16) and bead-lock style off-road wheels with an exclusive Gun-Metal Gray finish, TRD Cat-back Exhaust, increased front ride height of nearly two inches and unique Baja Series graphics.
The front suspension has been upgraded to include ??66mm piston Bilstein race shocks with TRD coil springs that feature a protective zinc plated body and a one inch increase in wheel travel. The rear suspension is equipped with ??50mm piston Bilstein race shocks with a remote reservoir to increase shock oil capacity for greater heat dissipation and damping sensitivity. The rear shocks also include a zinc plated body and a 1.5-inch increase in wheel travel.
The T/X Baja Series will be part of a Tacoma line that was updated for 2012 with a restyled front end and a refreshed interior in all models. Exterior changes included a redesigned hood, grille, headlamps and front bumper, among other changes. Inside, Tacoma received a new center-instrument panel design with a revised gauge cluster, along with a new steering wheel. A redesigned center stack added new air conditioner/heater controls and power point locations.
The 2012 Tacoma interior also received a new look with a black high-contrast center console, switch plate covers, dash and upper door trim, while the SR5 grade featured a new seat fabric design. Tacoma offers new heavy-duty all-weather flooring option for 2012 on Tacoma Access and Double Cab models equipped with a V6 engine. The more specialized TRD Sport and Off-Road packages also feature new water-resistant fabric protection seats.
All Tacoma TRD T/X Baja Series models will be built exclusively at Toyota Motor Manufacturing, Texas (TMMTX) in San Antonio and will reach dealer showrooms in May 2012. Prices for the Baja Series Tacoma do not include delivery, processing and handling fees (DPH), which are $810. The DPH fee for vehicles distributed by Southeast Toyota (SET) and Gulf States Toyota (GST) may vary.
2012 Toyota Tacoma Baja Series Model-By-Model Prices
Tacoma Baja Series 2012 MY, Model Code, Series, Description, MSRP, TRD Off-Road Pkg for Baja ($), Baja Series Pkg ($), Baja Series Factory Credit, New MSRP
2012, 7553, Tacoma, Access Cab 4×4 V6 MT, $25,055, $3,570, $5,015, -$650, $32,990
2012, 7554, Tacoma, Access Cab 4×4 V6 Auto, $25,935, $3,670, $5,015, -$650, $33,975
2012, 7593, Tacoma, Double Cab 4×4 V6 MT, $26,455, $3,455, $5,015, -$650, $34,275
2012, 7594, Tacoma, Double Cab 4×4 V6 Auto, $27,335, $3,555, $5,015, -$650, $35,255
All prices listed above exclude the Delivery, Processing, and Handling (DPH) fee of $810
Tacoma TRD T/X Baja Series Features
Off-Road tuned front and rear TRD Bilstein racing shocks
Electronically-controlled locking rear differential
Active Traction Control (A-TRAC)
Hill-Start Assist Control (HAC)
Downhill Assist Control (DAC)
BF Goodrich T/A KO tires (LT265/70R16) with bead-lock style off-road wheels with exclusive Gun-Metal Gray finish
TRD Cat-Back Exhaust
Increased front ride height by nearly two inches
Matte Black T/X Baja Vehicle Side Graphics
Exclusive TRD Tailgate Badge