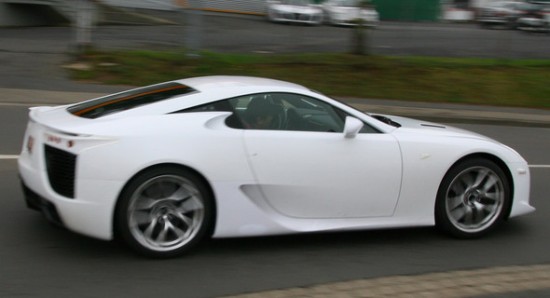 Look at the spy shot of the thinly disguised Lexus LF-A prototype model. The new Japanese supercar was testing at the Nurburgring race circuit. The 2010 Lexus LF-A V10 will be officially unveiled at the Tokyo Motor Show, which runs from October 23 to November 8 2009. The first version of the Lexus LF-A has been revealed at the 2005 Detroit Auto Show.

The front end of the new Lexus LF-A has received a subtly makeover but it is most likely that many of these changes were made to improve the vehicle's aerodynamics.
The 2010 Lexus LF-A V10 will come from a high-revving 5.0-liter V10 producing a little over 500-horsepower which should allow the supercar to hit the 100km/h mark in under 4,0 sec. and top out at around 320km/h.
The Lexus LF-A V10 features a front-mid engine, rear-wheel drive layout. The V10 engine is paired to an automated manual gearbox with paddle shifters.
Lexus plans to produce only 500 units, 120 of which are destined for Japanese market at an estimated price of around US $328,000.