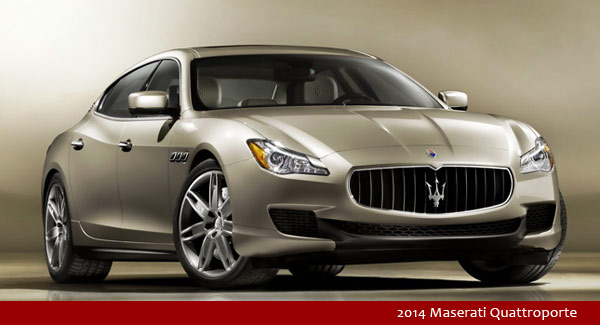 Maserati has reveiled its all-new sixth generation Quattroporte luxury sports sedan. The new Maserati Quattroporte will make its world premiere at the upcoming 2013 North American Auto Show in Detroit in January 2013 and go on sale later in the same year. Maserati released a set of photos of both the exterior and interior, but it is not divulging any specific details about the vehicle.

On the outside it becomes quickly clear that the Quattroporte is longer than its predecessor, while the styling is purely evolutionary.
Lorenzo Ramaciotti, Head of Maserati Design Centre, explains: "Its style was born out of the guiding design principles of Maserati: harmony of shapes, dynamism of lines and Italian elegance. More generous in size when compared to the previous model, the new Quattroporte has a design that is at once graceful and sinuous, fashioned to bring out the sporty nature of the car."
He continued: "Some of the elements characterising the previous model have been purposely maintained: the front grille, the three side vents and the triangular C pillar. At the same time new style and functional features have been introduced: the strong belt line that runs through the entire side of the car giving the new Quattroporte a look and feel that is at once muscular and elegant, with frameless doors and three side windows.
The new 2014 Maserati Quattroporte will be lighter than the outgoing model, thanks to the extended use of aluminum and other weigh-saving materials.
The interior design of the 2014 Maserati Quattroporte is minimalistic and elegant, with Italian carmaker saying that it also offers more space.
"Inside, the design of the Quattroporte aims at essentiality, stressing the simplicity of lines and the full functionality of the on-board instrumentation," said Ramaciotti. "Functional elements are blended with soft quality surfaces made of prestigious woods and refined leathers".
The 2014 Quattroporte will be powered by an "all new, next generation powertrain" designed and developed by Maserati and Ferrari engineers and built at Ferrari's Maranello plant.
"Passion is indeed the middle name of a whole new generation of Maserati engines that will equip the all-new Maserati Quattroporte and the models that will soon follow it on the market," explained Paolo Martinelli, Maserati Powertrain Director.
2014 Maserati Quattroporte spied testing 6 monthes ago

"Passion and state-of-the-art technology, both at the heart of all the new Maserati engines that will be mounted on the next generation of Maserati vehicles, have produced engines that are not only more powerful than ever, or more exciting to drive than ever – but also more fuel efficient than ever before."
It has been said that the new Quattroporte may also offer a new force-fed V6 along with the option of four-wheel drive in addition to the standard rear-wheel drive configuration.