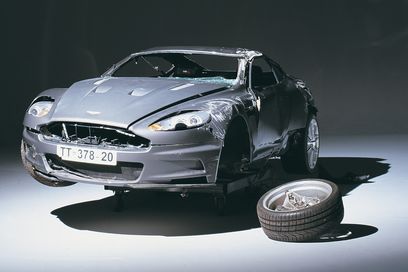 The choice of car for Casino Royale was made in 2005 when Aston boss Dr Ulrich Bez invited Bond producer to look at a new DB9-based model under development in the design studio. Bond producer loved the car and cast it as the perfect transport for Daniel Craig???s leaner, meaner, slightly blonder Bond.
This Aston with a small problem. The new car, to be called DBS, wasn???t due to be launched until 2007 and at that point it was just a styling buck still being finessed by design director. No actual DBSs existed and it wasn???t going to be much of a starring role if all Bond did was lean casually on a clay model.
Of course, the majority of the four cars Aston Martin delivered to the production were completely destroyed for a scene in which Bond swerves to avoid steamrolling his lady love and enters into a series of seven barrel rolls. The scene's stuntwork was so successful that it entered the Guiness Book of World Records for achieving seven complete rolls, besting Top Gear, the previous record holder. Unfortunately, the end result of the wreck was a destroyed DBS. Brit mag EVO chronicles the story of Aston's involvement in Casino Royale here, and provides a series of shots showing the DBS before and after the crash. Surprisingly, the Aston Martin DBS still looks gorgeous after going end over end a record number of times. It just needs a little TLC to get back on its feet.