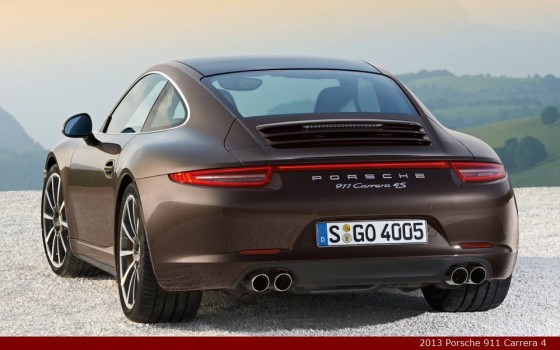 Here are the first official photos of the four-wheel drive Carrera 4 and 4S Coupe and Convertibles hot cars. The new models are ready for their world debut at the 2012 Paris Motor Show in September 27. The main way to tell apart the rear-wheel drive (RWD) 911s from their all-wheel drive (AWD) siblings is the moniker on the rear and the reflective strip that connects the tail lamps.

The new Carrera 4 has two oval tailpipes while the more powerful Carrera 4S sports quad exhausts tips.
No official word on the specifications yet, but aside from Porsche's all-wheel drive system, the Carrera 4 and 4S models will feature a modified suspension that will add some weight to the car. The engines will be the same as the ones found on the RWD versions.
As we know, the base Porsche Carrera 4 features a 3.4-litre flat-six with direct fuel injection and an output of 345hp, while the Carrera 4S makes do with a 3.8-litre flat-six with direct fuel injection rated at 394hp.
More details should be released over the next few days, before the Paris Motor Show will starts.