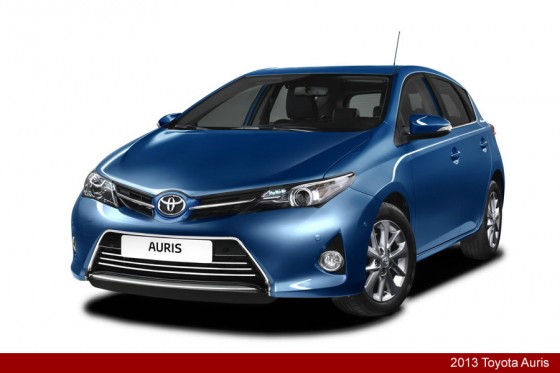 Look at the first official photos of the all-new 2013 Toyota Auris and its hybrid variation. This model will be sold in Europe and Japan as the Corolla. The new Auris will make its world premiere at the upcoming Paris Motor Show at the end of September.
The new Auris rides on a modified version of the previous model's platform keeping the same 2,600mm wheelbase and 1,760mm width, but is 30mm longer at 4,275mm. The interior of the new Auris has been redesigned with higher quality materials.

The repositioning of the battery pack beneath the rear seat on the Auris Hybrid allows the latter to boast the same load capacity as the regular model.
Toyota said that this contributes to a 10 per cent increase in body stiffness and an overall vehicle weight saving of up to 40kg / 88 pounds, depending on the version.
The European model, called Corolla will be offered at launch with a 1.4-liter turbo diesel as well as 1.33 and 1.6-litre petrol engines. In Hybrid trim, the new Auris will use a development of the current 1.8-litre petrol engine and electric motor setup with a nickel-metal hydride battery.
In Japan, the new 2013 Auris will be available with a 1.5-liter petrol engine and the choice of front- or all-wheel drive and a 1.8-liter petrol engine with front wheel drive and either a CVT-I or a six-speed manual gearbox.
Toyota promise to announce details on specifications and prices later.