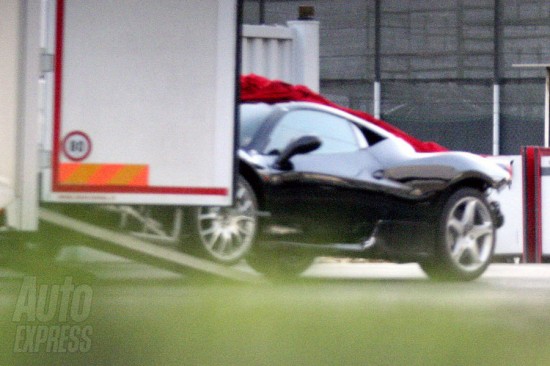 Do you know that Italian carmaker works on Ferrari's F430 replacement? The F450 test mule was spied being rolled onto the back of a truck somewhere in Italy. These are the first photos of the Ferrari's new entry-level model – the F450.
The new model looks very different to the current sport car with a pair of sweeping side air vents, which have been enlarged to cool the improved engine and brakes.

The new F450 will get a larger 4.5-litre V8 engine, putting out around 500bhp thanks to modified mechanicals including a higher rev limit. The new Ferrari F450 will also get a new gearbox too, in the shape of the California?????s seven-speed double clutch unit.
We expect the Ferrari F450 will make its world premier at the Frankfurt Motor Show in Germany in September and sales will starting in 2010.