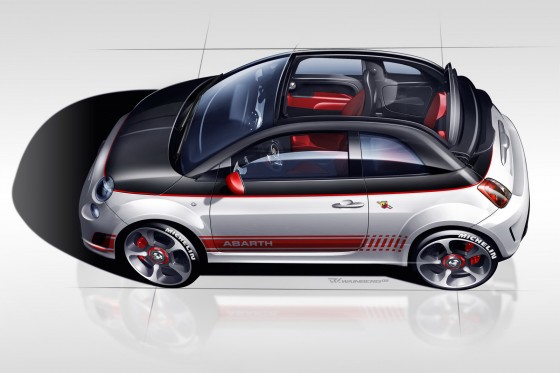 Italian car tuning studio, Fiat's official tuning brand, has unveiled its latest work based on the FIAT 500C before of the italian convertible's world debut at upcoming Geneva Motor Show. The FIAT Abarth 500C benefits from a more powerful turbocharged engine as well as chassis upgrades and a full suite of aero tweaks to reduce drag and improve high-speed stability over the standard Fiat 500C.
FIAT Abarth 500C comes from a 1.4-liter turbocharged T-Jet engine delivering 140 horsepower and 206Nm of peak torque at 2,000 rpm. The engine equipped with a standard six-speed automated manual gearbox with paddle shifters.

The Abarth 500C can runs from zero to 100km/h in 8.1 seconds and gets a maximum of 205km/h.
The FIAT's tuning studio said that it is also working on a more powerful "Esseesse" model that will be available later this year.
The sporty 500C's features include a thick-rimmed sports steering wheel, unique decorative trim, a pair of body-hugging front sport seats and a modified instrument panel.
The FIAT Abarth 500C will arrive to European dealerships later this year, U.S. sales will start sometime in 2012.