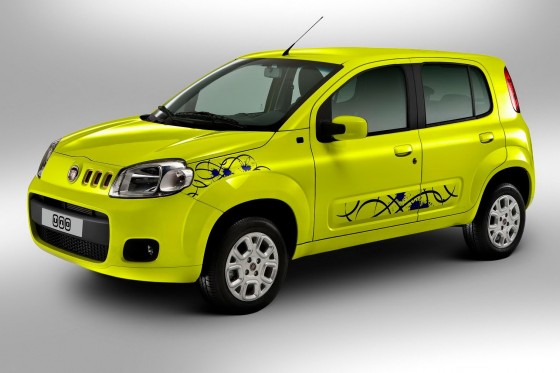 Fiat has officially unveiled the new gen of its Uno supermini. The Fiat released photos and initial specs of the Uno that will first go on sale in Brazil this month. Fiat plans to sell and produce the new Uno in Europe and Russia, but this has yet to be confirmed.
Measuring 3,770mm in length, 1,643mm in width and 1,490mm in height with a wheelbase length of 2,370mm, the new Uno fits between the Panda and the Punto EVO.

Fiat Uno's exterior styling bears a passing resemblance to the smaller Panda, albeit in a larger package and with its own unique detailing. The interior design is more simple and less stylish than in other Fiat products.
The new Fiat Uno will be come in range of flavors including a pseudo-SUV version called "Way" that features a higher road clearance and rugged looks.
The new Fiat Uno will be offered with a choice of two new flex-fuel petrol engines, a 1.0-liter unit producing 73HP when running on alcohol and 75HP on gasoline, and a 1.4-liter unit delivering a maximum output of 88HP on alcohol and 85HP on gasoline. Both engines are hooked up to a five-speed manual gearbox.