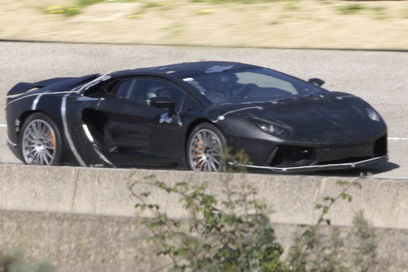 Lamborghini is working hard to get its Murcielago replacement, called Jota, out the door. Today the test mule in camo appears on public roads.
Styled in-house at the firm's headquarters the new Lambo will be the first production model to be penned by design and brand director Manfred Fitzgerald. While under its skin, Lambo's latest venture will get a new carbon fibre chassis, helping bring its weight down from 1,665kg to 1,500kg.

Power will be drastically increased too, with a new 7.0-litre V12 engine expected to produce in excess of 700bhp and 700Nm of torque. As a result the new Lambo will able to clock a top speed of around 220mph and 0-62mph will take only 3.0 seconds.
The fuel economy is also due to increase to around 23mpg, with CO2 falling from 495g/km to roughly 425g/km, thanks to a clever cylinder deactivation system, which operates under light loads.
Inside, the new design means the Murcilago's offset driving position will be consigned to the history books. Trademark scissor doors will remain, the cabin will be trimmed in carbon.
The new Lamborghini will debut at the Paris Motor Show in October and will cost more than £300,000.