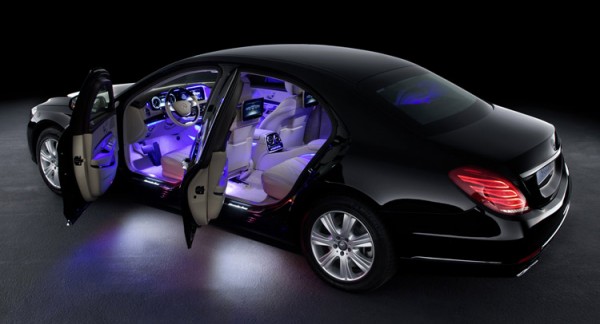 Mercedes-Benz has unveiled the new generation of the luxury S-Class model. Yes, it's an armored Mercedes-Benz S 600 Guard.
The S 600 Guard limo complies with the highest ballistic protection (class VR9), both in transparent and non-transparent areas, and features specific reinforcement of the base structure.
Mercedes-Benz speakerman says protective components of special steel are integrated into the cavities between the body structure and the outer skin, with special aramide and PE components providing additional splinter protection. The glass areas are coated with polycarbonate on the inside for splinter protection. Furthermore, the underbody of the car is almost entirely covered with armoring.
Video: 2015 Mercedes-Benz S 600 Guard
The new Mercedes-Benz S 600 Guard provides also protection against explosive devices. For the first time, the S 600 Guard is available both as a four-seater and as a five-seater, with a boot capacity of 350 liters.
Despite being heavier than the regular S 600, the S 600 Guard is powered by the same 523hp (530PS) 6.0-liter bi-turbo V12 engine mated to a 7G-Tronic automatic transmission.
The S 600 Guard rides on a standard Airmatic air suspension with reinforced suspension components and adapted control functions such as ESP or ASR to cope with the increased vehicle weight. Brakes are larger too and the car is fitted as standard with Michelin PAX run-flat tyres with an additional tyre pressure monitoring system which allows an escape from a danger zone up to a distance of 30 km (18.6 miles) even with damaged tyres.