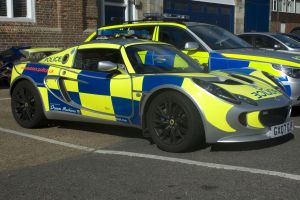 Sussex Police get a new hot car on the force: a 140mph supercharged Lotus Exige. Sussex Police are showcasing the lightweight Lotus at events to get keen young drivers to talk to them.
The police Exige is capable of topping 140mph and accelerating from 0-60mph in just 4.1 seconds.
Sergeant Paul Masterton said: ???Many places in Sussex have a problem with youths speeding around, with their stereos blaring, making a general nuisance of themselves.
???We get calls about it every weekend, but when we turn up they usually speed off in the opposite direction as soon as they see us. It means we can never engage directly with these young people, and tell them about the dangers they??ôre causing.
???When we pull up in this Lotus, however, it??ôs usually them that are approaching us to have a look at the car!???
Sergeant Masterton said: ???A huge number of 17 to 25-year-olds die or cause other deaths on the roads each year, and even more suffer serious injury.