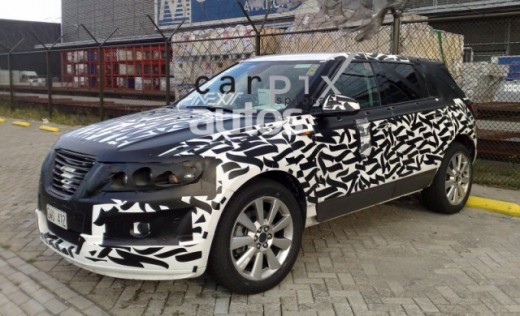 The spy shooters caught the Saab 9-4X in camo. Though the SUV may share a platform with its Cadillac BRX cousin, we're told that the 9-4X will be much more of a Saab directed product, unlike the badge-engineered 9-7X and 9-2X that came before it. The car's design is a product of teams in both Germany and Sweden, and already shows a nicely aggressive stance with huge wheels pushed out to each corner. Cues from Saab's Aero X can also be spotted in the glasshouse and front fascia of the mule seen here.
There's a good chance that the uncovered 9-4X could show up for the Detroit Auto Show in 2009, and based on what we're seeing here, we'll be first in line for the reveal.
The new 9-4X will be a sporty looking SUV with a lot of the Aero X look in the front, low side windows and short overhangs.