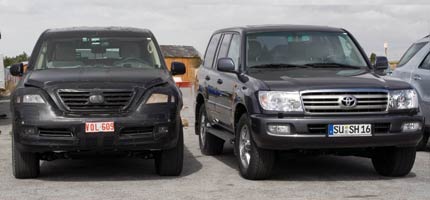 The new Toyota's "baby" was caught testing in southern Europe. The spied SUV will be a next-generation version of the Land Cruiser (or it might be the Lexus LX?). While the Land Cruiser is offered with a wide variety of gasoline and diesel six- and eight-cylinder engines worldwide, it's likely it'll come to the United States, as it does currently, solely with a V-8 under the hood. But the current 4.7-liter V-8 is likely to give way to the new American-made 5.7-liter, DOHC, 32-valve, VVT-i V-8 that's being installed in the 2007 Tundra pickup truck. In the Tundra, it's rated at 381 horsepower, and there's no reason to think that'll change much in the Land Cruiser. And as in the Tundra, the 5.7 will probably be mated to Toyota's new six-speed automatic transmission.
The Lexus LX likely will get a name change to LX 570 to reflect the additional liter of displacement in the new engine, and the interior will be redesigned for something more elegant than what's currently offered. But don't expect a hybrid version for this largest Lexus.
The new Land Cruiser and LX 570 should be showing up at dealers before the end of this year as 2008 models.