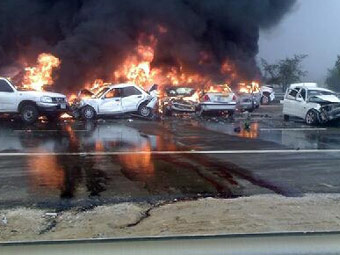 Eight people have been killed and 141 injured after a devastating 200-car pile up on the Abu Dhabi-Dubai highway today.
Emergency workers said the cars smashed into each other in thick fog at around 6.45 am on the Dubai-bound side of Sheikh Maktoum bin Rashid Road.
Ninety-two cars caught fire in the smash-ups, Khalifa Al Darrai, chief executive of the Ambulance Service Centre in Dubai, told UAE weekly Xpress.
"Patients were lying on the road. Thankfully, they had abandoned their cars or else the death toll would have risen significantly," Al Darrai said.
As of 1.00 pm on Tuesday, a total of 141 injuries were reported, of which 39 were major injuries and 102 minor, Xpress reported on its website. Crash victims were taken to Rashid Hospital in Dubai and Al Rahba and Al Mafraq hospitals in Abu Dhabi for treatment.
"There were six buses carrying labourers, three buses had 50 passengers each.
"I have never witnessed an accident of this scale before."
Eyewitnesses at the scene said it was "mayhem".
"There is a car which is completely charred, that is all I can tell – I cannot tell the brand, or if it's one car or two. All I can is that it was once white, " said Rami Dia, a 31-year-old business development manager, speaking to ArabianBusiness.com from the scene.
Dubai Police said in a traffic update at 12.45 pm that the road from Dubai to Abu Dhabi was partially closed, and where the accident happened the road was completely blocked.