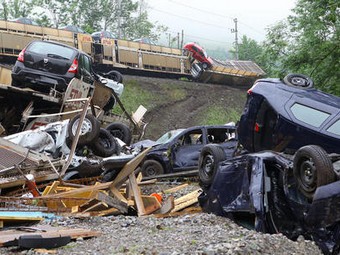 A freight train carrying new Romanian Dacia to France derailed yesterday in Austria. There are 200 new Dacia's Logan, Sandero and Duster cars were destroyed or damaged (the number of cars damaged is yet unconfirmed, between 100 and 200).
The accident took place at 60 km/h (37 mph). At one point, 10 of the 16 carts of the train came off the rails and rolled over, leaving the others slide for the next 100 meters and subsequently do the same. Initial information points to the brakes, which failed to work properly.

Below is a Euronews video showing the efforts made to clear the track and the extent of the damage suffered by the cars being transported to France.