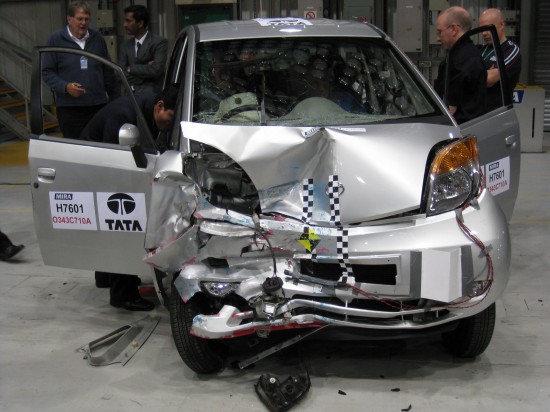 World cheapest, Indian-built car, the Tata Nano, has passed its first European safety tests. Indian engineers brought two Nanos to the UK test house MIRA to put them through a 50 km/h side impact test and a 56 km/h offset frontal impact test. As we know the two tests are the min required for a legal vehicle in Europe.
The cars that went through the tests were modified on the line at the Nano's base in India. Four areas within the car were strengthened: structural foam was added to the cant rail; the front longitudinal structure is reinforced; structure is added to the front behind the bumper and on the firewall; and structure is added to the front doors.

A driver's airbag was included for the tests, but this was not fully calibrated and was triggered remotely. Later cars developed for European markets will have features such as airbags as standard. Other modifications will add around 150mm to the length of the vehicle, plus some width to accommodate side airbags. There will also be changes to interior trim and the small skinny wheels are likely to be upgraded.
The tests were certified by Nic Fasci, type approval engineer working for the UK government's Vehicle Certification Agency. After the frontal crash, Fasci said: "It looks no different from other cars doing this test. It's a good crash."