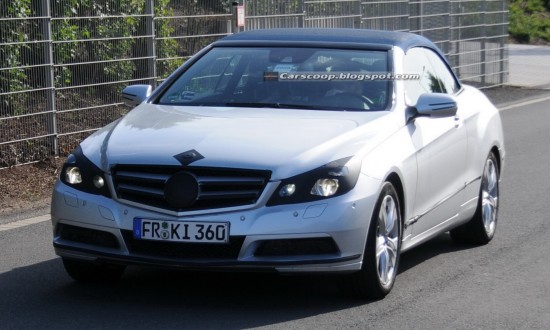 The spy photographers snap shoted a new 2010 Mercedes E-Class Cabrio without camouflage in Germany.
The four-seater CLK Convertible's replacement will come in several performance flavors. Customers will most likely have the same five engine choices as in the E-Class Coupe that include two diesels, a 204HP 2.2-liter four-pot and a 231HP 3.0-liter V6, and three petrol units, a 204HP 1.8-liter turbocharged-four, a 292HP 3.5-liter V6 and a range-topping 5.5-liter V8 churning out 388HP.

The Mercedes-Benz E-Class Convertible will make a world debut at the 2009 Frankfurt Auto Show and will arrive at Mercedes showrooms before the end of the year and in some markets, in the beginning of 2010.