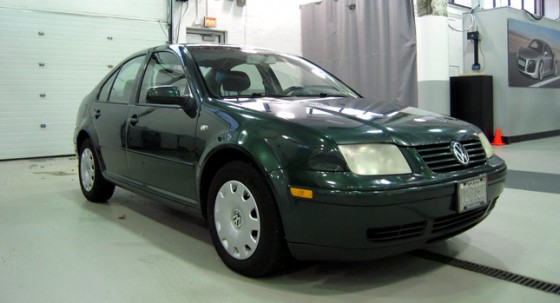 While covering 500,000 miles (804,500 kilometers) with the same engine is not something unheard of these days, it is not common either. Welcome to the world of Matt Marion, deputy editor at Men's Health magazine, who recently hit the half-million mile mark with his 2001 Volkswagen Jetta 1.8T.
The milestone came on April 9, 2012, but instead of simply opening a champagne to celebrate the occasion, Marion decided to perform an autopsy at Volkswagen Group of America's Auburn Hills Technical Center in Michigan.

The question now was, how the hell did I get there?
My answers would come primarily from Kevin Smith, a master technician and the shop foreman at the Technical Service Center, and Dale McFarland, a TSC technician and all-around automotive guru. As Dale began to disassemble the car that I had spent years trying to hold together, I suddenly saw just how old the Jetta looked. I joked that the fogged-up headlight lenses were like cataract-clouded eyes, the coolant pouring out was urinary incontinence
Over the course of two days, the German brand's technicians took apart the Jetta's 1.8-liter turbocharged four-cylinder engine to check for cylinder wall wear and intake valve carbon deposits.
The technicians reportedly found little wear and buildup, crediting Marion's careful servicing of the car for its good condition.
Heinz Rothe, a Product Support Engineer with Audi who was on hand during the autopsy, seemed surprised with the results. The autopsy was complete, but Heinz was still marveling that this was a 500K engine. "This is fantastic," he said. "Unless you see it, you don't believe it. I wouldn't be surprised if you could do another half million."
As for Dale, the man who had dissected the engine that had carried me so far and so long, he had this to say: "Whatever you did, it should be in the owner's manual."
Postscript: I sold the body of the Jetta to Rob Delaney, who will use many of its parts to fix up other Jettas for people who need a set of wheels. This felt right. The Jetta may have stopped racking up miles at 500,000, but now I know it will continue to live on.