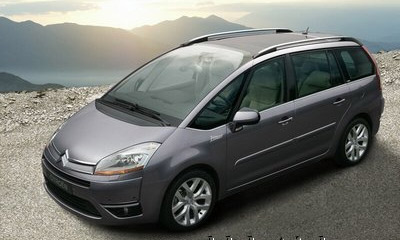 Citroen has released the first photos of its new Citro??n C4 Picasso. Real car will unveil at the 2006 Paris Motor Show.
The C4 Picasso sports distinctive styling and a host of original features that make travelling by MPV an even more comfortable and enjoyable experience:
– outstanding visibility and clarity with the wide-angle panoramic windscreen,
– an uncluttered front compartment with an innovative drive station and the new 6-speed electronic gearbox system,
– class-leading space in the passenger compartment and boot,
– original seat-folding functions that allow the interior layout to be reconfigured quickly and simply, thus accommodating up to seven occupants comfortably,
– unparalleled interior comfort with temperature control, soundproofed windows and air quality sensors,
– a comfortable ride and a pleasant drive, with pneumatic suspension at the rear.
The new Citro??n C4 Picasso is expected to go on sale in November.