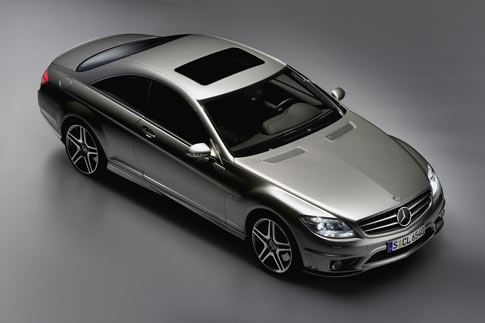 DaimlerChrysler unveiled the 2008 CL65 AMG. The powerful Mercedes-Benz AMG 6.0-liter V12 biturbo engine familiar from the S65 AMG and SL65 AMG 12-cylinder models.
Standard features include AMG body styling, 20-inch AMG forged wheels, the unique AMG interior and highly advanced technology, such as AMG sports suspension, and the anticipatory occupant protection system Pre-Safe. At the front, the 8.5-inch-wide wheels are fitted with 255/35 ZR 20 tires, while 275/35 ZR 20 tires equip the 9.5-inch-wide wheels at the rear.
The AMG high-performance brake system with new double-frame sliding calipers offers maximum deceleration without fading: under emergency braking from 100 km/h at the permissible gross vehicle weight, the CL65 AMG comes to a standstill in 35.6 meters; this represents a maximum deceleration of 11.1 m/s2.
The 2008 Mercedes-Benz CL65 AMG will be on display at the 2007 New York Auto Show.