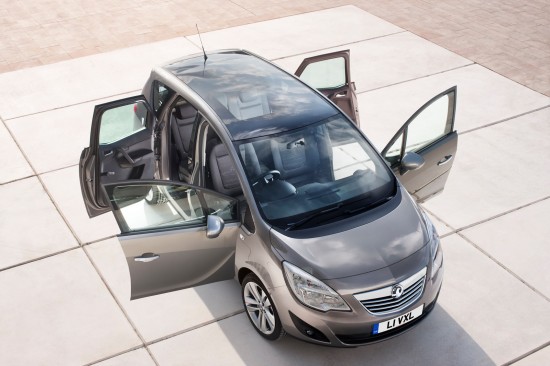 While GM's U.S. division was introducing the new Cadillac CTS-V Coupe, on the other side of the ocean, the UK arm Vauxhall, also known as Opel in Europe, has unveiling the all-new Vauxhall/Opel Meriva. The new mini-MPV for euromarket is the first Opel platform to feature GM's FlexDoor technology.
FlexDoors are rear-hinged back doors that swing open towards the back of the car at an angle of nearly 90 degree.

GM's Opel also highlighted the fact that, unlike other suicide-door applications such as on the Mazda RX-8 and Rolls Royce Phantom and Ghost, the Meriva's front and rear doors can open independently.
The Meriva's exterior styling has remained relatively close to the concept model keeping many features like the unique glasshouse design that incorporates a downward kink at the back doors just behind the B-pillar, unchanged, while it also shares many styling cues with both the Insignia and Astra.
The Opel Meriva's interior versatility will be boosted by the improved FlexSpace system that allows easier fold-down of the three individual rear seats that can also be mounted back independently to create more boot, leg or shoulder room.
A new feature for the 2010 Meriva is the FlexRail system that incorporates a dual-rail base on the lower center console allowing owners to attach a variety of modular storage bins.
The new Meriva, will be formally unveiled at the Geneva Motor Show next March.