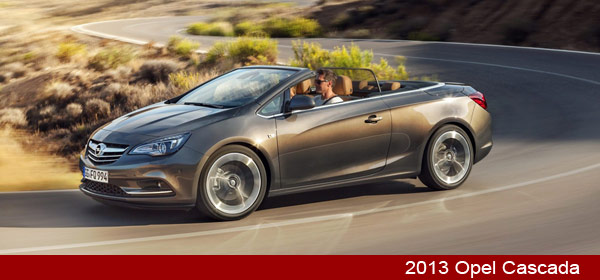 Here are the first official photos and video of the latest convertible model from Opel, called Cascada. Opel and its British right hand Vauxhall, will start producing its a mid-size convertible in March of 2013. At 4,697mm long and 1,840mm wide, the Opel (Vauxhall) Cascada is bigger than the Astra Twin Top and 71mm longer than the Audi A5 Cabrio and 85mm longer than the BMW 3-Series Convertible.

The car uses the some platform with Astra and Insignia. Opel says that Cascada adopts the HiPerStrut front suspension used on the 325PS Insignia VXR, while at the back, there's a crank beam axle design.
The electrically operated hood can be opened in 17 seconds at speeds up to 30mph (48 km/h) by an interior switch, or via a button on the key fob. With the roof down, the Cascada's boot capacity falls from 350 liters to 280 liters. The top will be available in three colors that can be coordinated with ten different body shades.
The new 2013 Opel Cascada convertible will gets Opel's all-new 1.6-liter SIDI Turbo ECOTEC petrol engine, which produces a maximum output of 168Hp (170PS) from 1650-3200rpm and 280Nm (206 lb-ft) of torque. It will be offered only with an automatic six-speed gearbox.
Other powertrain options for the Cascada include an entry level, 1.4-litre turbocharged petrol engine delivering 138hp (140PS) and 220Nm (162 lb-ft), and a 2.0-liter turbo diesel rater for 163Hp (165PS) and 380Nm (280 lb-ft), available with either six-speed manual or six-speed automatic transmissions.
The interior and exterior styling of the Cascada borrow elements from both the latest iterations of the Astra and Insignia, with the automaker providing several luxury amenities and tech goodies on the standard and optional equipment lists.
Vauxhall said that pricing for the Cascada will start in the UK from around £25,000 (equal to $40,500), or about the same as the entry level BMW 118i Convertible.
"The midsize cabriolet segment is only occupied by very high-priced cars from premium manufacturers," commented Thomas Sedran, Deputy Chairman of Opel. "With the Cascada, Opel offers all the typical features and premium qualities of a midsize convertible, but at an affordable price."