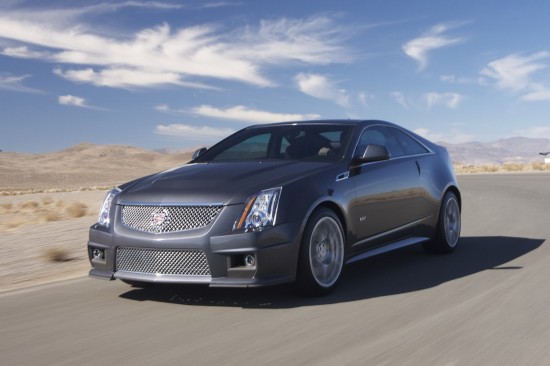 The ultimate version of Cadillac's all-new CTS Coupe will make its debut at upcoming 2010 International Auto Show in Detroit. The Caddy CTS-V Coupe packs the same 6.2-liter supercharged V8 engine found in the sedan version. It produces a hefty 556 hp and 551 lb.-ft. of torque propelling the 2+2 coupe from 0-60 mph in just 3.9 seconds.
Customers will have the choice of a six-speed manual gearbox or a six-speed automatic transmission with paddle-shift control.
Cadillac says that the CTS-V Coupe has the same wheelbase as the CTS-V Sport Sedan, but its overall height is about two inches lower and its overall length is two inches shorter while the rear track is nearly an inch wider than the four-door model.

Visually, the CTS-V Coupe is identified by its bulged hood, specific front and rear fascias, and unique 19-inch alloy wheels wrapped in Michelin Pilot Sport PS2 rubber.
Cadillac said that the steering wheel, seat inserts and shifter are covered in microfiber while the integrated center stack is trimmed in Obsidian black material that is also applied to the center console and door trim.
Additional options will include a new Saffron color and special Recaro sport seats that are 14-way adjustable and include pneumatic bolster controls in the seat cushions and backrests.