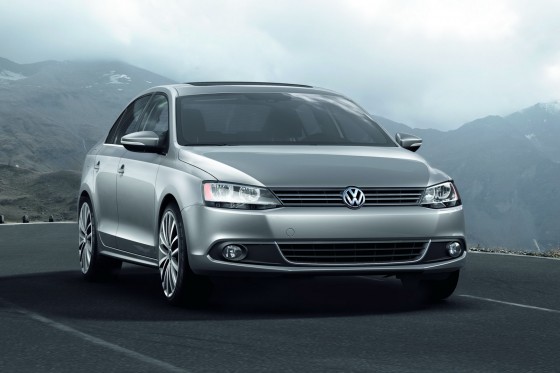 Look at these first official photos of the all-new 2011 Jetta Volkswagen sedan. The new Jetta was officially unveiled and will go on sale in the U.S. this October with prices starting at $15,995. Unfortunately, availability and pricing in Europe will be announced later.
The new Jetta's exterior styling with the Audi-esque rear-end and Scirocco-like fascia was inspired by the NCC coupe concept car shown at the Detroit Show.

The new Jetta will not be sharing any body components with its Golf brethren, though underneath, the two models share most parts as the four-door sedan uses a modified version of the Golf's architecture.
The saloon's dimensions have been re-proportioned compared with those of the concept car and the outgoing Jetta model. The 2011 VW Jetta measures 182.7 inches (4.64 meters) long, 57.1 inches (1.45 meters) tall and 70.1 inches (1.78 meters) wide, making it 3.54 inches or 90mm longer than the previous model.
The 2011 Jetta's interior styling is far less refreshing than the exterior. In fact, it's as if nothing changed over the outgoing model.
In Europe, the new Jetta will eventually be offered with a total of six engines, all turbocharged. The petrol range includes the 105HP 1.2-liter TSI, 122HP 1.4-liter TSI, 160HP 1.4-liter TSI and the 200HP 2.0-liter TSI.
Diesel buyers will get two common rail units, a 105HP 1.6-liter TDI and a 140HP 2.0 TDI. Except for the 1.2 TSI, all engines may be paired with either a 6-speed or 7-speed DSG dual clutch transmission.
VW will not offer the 1.2 TSI and 1.4 TSI petrol units in America. But North American buyers will continue to get the same ol' 2.5-liter five-cylinder petrol found on the outgoing model.
All Jetta engines will be equipped with a manual transmission as standard with automatic transmissions offered as an option. On the new 2.0-liter TDI and 2.0-liter TSI, Volkswagen will offer the 6-speed DSG.