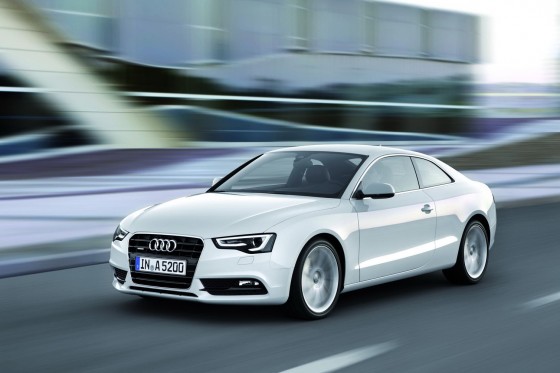 Audi unveiled the facelifted versions of its A5 Coupe, the Sportback and Cabriolet. The 2012 Audi A5 range is available with direct injection engines featuring forced induction and stop-start and energy regeneration system as standard.
The base engine for all models is the updated 4-cylinder 1.8-liter TFSI petrol, which produces 170HP and 320 Nm of torque. The revised four-pot is more frugal with the Coupe returning 5.7 liters/100 km on the combined cycle.

The 2.0 TFSI with 211HP remains unchanged, while a new 3.0-liter supercharged V6 with 272HP has been added to the A5's line-up.
The diesel range comprises of four engines, one four cylinder and three V6s. The base 2.0 TDI has an output of 177HP and, in the Coupe, consumes 4.7 liters/100 km.
Exterior changes are restrained with the new "wave" LED headlamps. Other revisions include the modified front grille, the redesigned front bumper with larger air intakes, a new rear bumper and tweaked rear lights with optional continuous LED light strips.
Inside, the most significant upgrade is the introduction of an available three rear-seat configuration for the A5 Sportback. The new steering wheel and auto gearbox lever designs, the different finishes on the instrument panel and console, the new trim options and an available MMI system with 3D imaging, Google Earth navigation and a WLAN hotspot, complete the changes for the 2012MY.
Audi says the new A5 is only marginally more expensive than its predecessor is. For example, in Germany the price increase for the A5 Coupe 2.0 TFSI is just €200, while the base A5 Sportback 1.8 TFSI starts from €33,350.