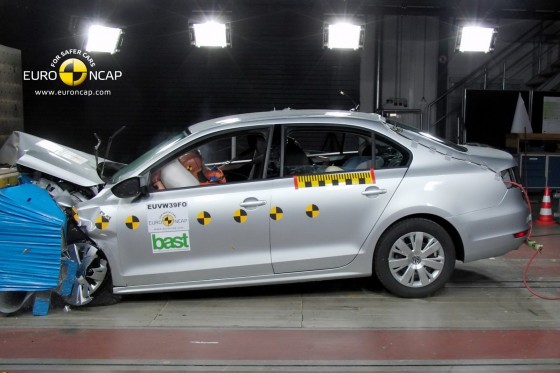 Great news for automakers: nine out of 10 cars tested this year earned the 5 starts in Euro NCAP's crash tests. The five-star winners are: the Audi A6, the BMW X3, the Chevrolet Aveo, the Chevrolet Orlando, the Citroen DS5, the Hyundai i40, the Opel Ampera, the VW Golf Cabriolet and the VW Jetta.

Kia's new Picanto didn't make the cut as it was awarded an average for the class four star rating, mainly due to the absence of ESP as standard equipment across its range. That's bound to change next year as new EU regulations make electronic stability programs mandatory for every new car.
Euro NCAP notes that there hasn't been much progress on the issue of pedestrian protection. The Audi A6, the Opel Ampera and the Citroen DS5 only just met the current pedestrian protection requirements for a 5-star rating.
The problem is that none of the cars tested would meet the new, more demanding pedestrian protection standards that will come into effect in 2012. Euro NCAP said the 2011 Ford Focus, which achieved a very good score (72%) in pedestrian safety, is one of the models that shows the way other manufacturers must follow.