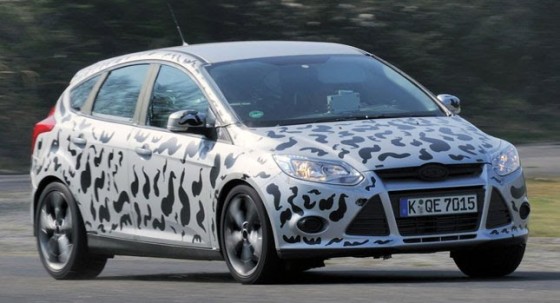 The hot version of the Ford Focus hatch is testing now in Europe. The new sport variant will follow the company's "One Ford" strategy and go on sale in Europe, North America and Asia under the same Focus ST nameplate.
2012 Focus ST hatch will be powered by a new 2.0-liter EcoBoost engine delivering 250 hp. Developed together by the RS and SVT engineering teams, the Focus ST was presented as a pre-production concept car at the 2010 Paris motor show.

There are 60 pre-production mules currently undergoing testing and development work in various locations in Europe and North America. "We've done all the engineering groundwork, and now we're using some of the most demanding roads we can find in Europe and North America to validate and fine tune the performance and driving dynamics," said Jost Capito, Ford's director of Global Performance Vehicles.
The development team completed cold weather testing and worked on refining steering performance, as the new Focus ST will feature the Electric Power Assist Steering system. The car will also sport upgraded seats which will offer lower seating position and better lateral support.