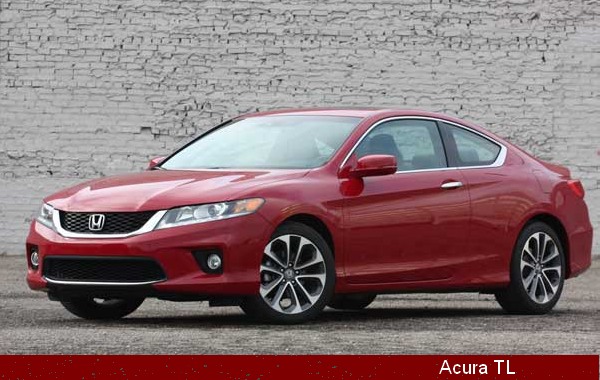 The Insurance Institute for Highway Safety (IIHS) has revealed its annual Top Safety Picks List for new 2013 year. As we know, IIHS only evaluated 29 vehicles with its new testing procedures for TSP+. Luxury cars were the first groups evaluated.

Only two luxury sedans made the list of 13 for 2013: the Acura TL and Volvo S60. The other 11 cars on the list included entries from domestic, Japanese and German car makers: Dodge Avenger, Chrysler 200, Ford Fusion, Honda Accord, Kia Optima, Nissan Altima, Subaru Legacy and Outback, Suzuki Kizashi and the Volkswagen Passat all made the grade.
PRESS RELEASE

ARLINGTON, Va., Jan. 2, 2013 /PRNewswire-USNewswire/ — To reward 2013 models with superior crash protection, the Insurance Institute for Highway Safety (IIHS) is awarding its new Top Safety Pick+ accolade to 13 cars. All earn good or acceptable ratings in the new IIHS small overlap test as well as top marks in other IIHS evaluations.
Winners include the Acura TL; Dodge Avenger and its twin, the Chrysler 200 4-door; Ford Fusion; Honda Accord 2-door; Honda Accord 4-door; Kia Optima; Nissan Altima 4-door; Subaru Legacy and its twin, the Subaru Outback; Suzuki Kizashi; Volkswagen Passat and Volvo S60. The Acura TL and Volvo S60 are midsize luxury cars. The other models are midsize moderately priced cars.
"Of the 29 models evaluated so far in our small overlap frontal crash test, these 13 cars offer the highest level of all-around crash protection," says Adrian Lund, IIHS president. "We're pleased to recognize them with our new Top Safety Pick+ award for 2013."
List of safest cars for 2013
IIHS rates vehicles good, acceptable, marginal or poor based on performance in a moderate overlap frontal crash, small overlap frontal crash, side impact and rollover, plus evaluations of seat/head restraints for protection against neck injuries in rear impacts. Top Safety Pick+ winners must earn good ratings for occupant protection in at least 4 of 5 evaluations, with no less than acceptable in the fifth test.
For 2013, 117 additional vehicles earn Top Safety Pick. To qualify for Top Safety Pick vehicles must have good ratings for occupant protection in the moderate overlap frontal test, side impact, rollover and rear tests, regardless of their small overlap rating.
"Models that earn Top Safety Pick also offer outstanding protection in many crashes," Lund says. "These vehicles are much safer choices than most vehicles on the market just five years ago."
IIHS introduced the small overlap test in 2012 to further improve occupant protection in frontal crashes. Luxury/near luxury midsize cars were the first group of vehicles evaluated, followed by midsize moderately priced cars. IIHS will announce additional Top Safety Pick+ winners as it continues to test models. Results for small SUVs are expected in the spring.
The small overlap test replicates what happens when the front corner of a car collides with another vehicle or an object like a tree or utility pole. In the test, 25 percent of a car's front end on the driver side strikes a 5-foot-tall rigid barrier at 40 mph. A Hybrid III dummy representing a 50th percentile male is belted in the driver seat.
Most automakers design their vehicles for good performance in the IIHS moderate overlap frontal test and the federal government's full-width frontal test, but many haven't addressed the problem of small overlap crashes. In a 2009 IIHS study of vehicles with good ratings for frontal crash protection, small overlap crashes accounted for nearly a quarter of the frontal crashes involving serious or fatal injury to front seat occupants.
IIHS gives manufacturers advance notice of planned changes. Automakers in the past have been quick to factor new IIHS evaluations into their designs, and many are on track to do the same with the introduction of the small overlap test and Top Safety Pick+.
"We've seen automakers make structural and restraint changes in response to our small overlap test," Lund says. "Five manufacturers redesigned their midsize cars to enhance small overlap crash protection."
Honda engineered both versions of the Accord to do well in the test. Ford and Nissan made running structural changes to 2013 models already in production. Subaru and Volkswagen changed airbag control modules on the production line so side curtain airbags would deploy for improved head protection.
IIHS first gave the Top Safety Pick award to 2006 models and has tightened criteria twice since then. Good rear test results and availability of electronic stability control became a requirement starting with 2007 models, and a good roof strength rating became a deciding factor for the 2010 model year. Stability control is no longer a distinguishing criterion since the feature is standard under federal rules for 2012 and later models.