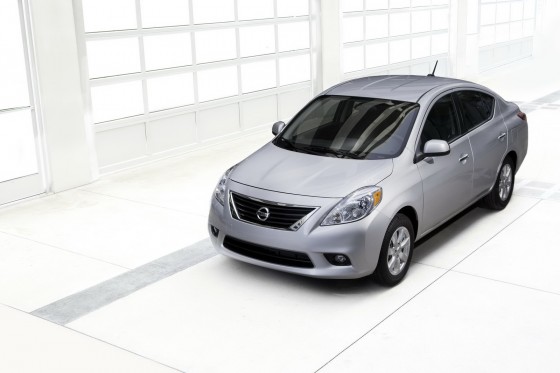 The North American 2012 Nissan Versa sedan was unveined today. The new Versa is based on the Micra's V-platform architecture, hence the odd proportions of the body. 'The new Versa Sedan stands out as the only expensive looking car in the segment – with a lot of eye power,' said Al Castignetti, vice president and general manager Nissan North America.

Its sculpted, dynamic proportions are modern without being gimmicky, projecting a much higher sense of design value than you might expect in a vehicle with a $10,990 starting M.S.R.P
While retaining the same 102.4-inch wheelbase and 66.7-inch width as the previous generation Versa Sedan, Nissan's newcomer is 1.2 inches lower in height (59.6 inches) and 0.6 inches shorter in overall length (175.4 inches). According to Nissan, the Versa has more legroom than some mid and large size sedans such as the Lexus LS460, BMW 5-series and Mercedes-Benz E-Class., while offering a trunk volume of 14.8 cubic feet.
Tthe new Versa get a second-generation 1.6-liter HR16DE 4-cylinder engine rated at 109 horsepower at 6,000 rpm and 107 lb-ft of torque at 4,400 rpm. Buyers can choose between a 5-speed manual transmission and a next-generation Xtronic CVT transmission.
The fuel economy for the 2012 Versa Sedan is estimated at 30 mpg City, 37 mpg Highway and 33 mpg combined with the CVT transmission, and 27/36/30 mpg with the 5-speed manual gearbox.
The 2012 Nissan Versa Sedan will be priced from $10,990, with sales set to start in the summer.