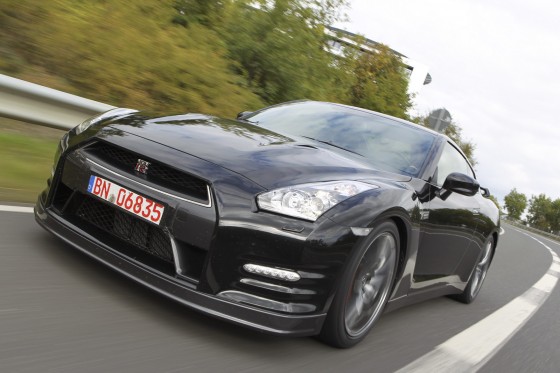 Nissan unveiled a 2013 Nissan GT-R towards the end of fall or the beginning of winter. The new 2013 GT-R version carries the 2012MY designation in Japan and Europe, and the 2013MY moniker for the North American market.
Starting with the 3.8-liter twin-turbocharged V6 engine, a raft of upgrades that include but are not limited to, revised heads, intercooler and exhaust system, push output from 530PS at 6,400rpm from 3,200 to 6,400 rpm, to 550PS at 6,400rpm from 3,200 to 5,800 rpm.

Nissan says that these changes not only result to better engine response and torque at mid- and low-speeds, and power at high revolutions.
Nissan claims to have refined shift feel and quietness thanks to a strengthened design of the shift fork arm and a firmer fixing bearing for the flywheel housing. The 2013 Nissan GT-R also brings a more rigid body, a ceramic brake system option on certain models and unique asymmetric suspension settings on left- and right-hand drive cars.
Equipment changes include a new Rear View Camera device that will be standard on all models plus an upgraded Bose sound system. The updated GT-R is scheduled to go on sale in Japan on November 24 and arrives in Europe from early 2012. No word yet announced a sales date for the American version.