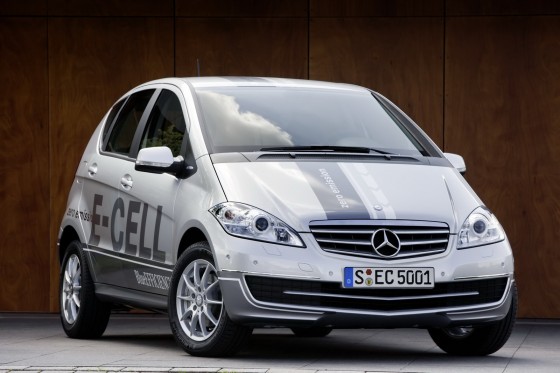 Mercedes-Benz has announced its all-electric A-Class E-Cell car that will enter production this fall. The Mercedes-Benz plans to build 500 A-Class E-Cells and lease the car to customers in Germany, France and the Netherlands.
The lithium-ion powered E-Cell is based on the existing A-Class and Mercedes claims it offers the same safety, space and comfort of its petrol-powered sibling.

The E-Cell has a range of 124 miles (200 km) on a single charge and can be recharged either through mains power (which takes eight hours) or at public recharging stations (which takes three).
Nominal output from the electric motor is 68 hp (50 kw) and 95 hp (71 kw) when on boost (i.e. for overtaking). Torque is 290 Nm. Mercedes claims the E-Cell is good for 0 – 37 mph (0 – 60 km/h) in 5.5 seconds and 0 – 62 mph (0 – 100 km/h) in 14 seconds. Top speed is electronically limited to 93 mph (150 km/h).
The launch of the E-Cell coincides with the planned establishment of hydrogen and electric recharge infrastructure in the Baden-W??rttemberg region of Germany. Daimler will provide 700 recharge points and two to three hydrogen refilling stations in the region by the close of 2011.
Technical data for the A-Class E-CELL
Locally emission-free, exclusively battery-powered electric vehicle with a range of more than 200 kilometres NEDC (new European driving cycle).
Five-seater compact car meeting all requirements for everyday use.
Two liquid-cooled lithium-ion batteries with 36 kWh storage capacity.
Battery system location leaving spacious interior and luggage compartment completely unobstructed.
Power electronics with integrated DC/DC converter for 12-volt supply.
THERMOTRONIC air-conditioning and pre-start climate control via charging plug.
Series production run of 500 units to start in autumn 2010.
Drive system
Electric drive, lithium-ion battery
Continuous power rating (hp) 68
Peak power (boost) (hp) 95
Rated torque (Nm) 290
Maximum speed (mph) 93
Acceleration from 0 to 62 mph (s) 14
Acceleration from 0 to 37 mph (s) 5,5
Charging time for 100 km range (NEDC)
8 h from domestic mains socket (230 V)
3 h from wall-box / public charging point (400 V)
Range (miles) NEDC>124
Energy capacity of lithium-ion battery system (kWh) 36
Luggage compartment volume (l) 435 – 1.370