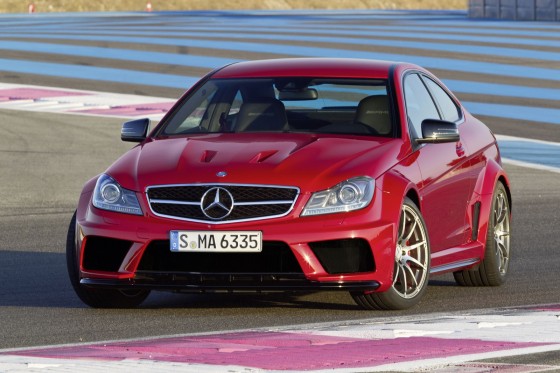 Mercedes-Benz unveils the hot C63 AMG Coupe Black Series. The AMG Black Series is powered by the naturally aspirated 6.2-liter V8 but AMG's modifications include forged pistons, conrods and crankshaft, a 50% bigger oil cooler and a new ECU, it churns out 517HP and 620 Nm (457 lb-ft)of tarmac-tearing torque.
All this power is channeled to the 19-inch rear wheels via a seven-speed dual-clutch AMG Speedshift transmission. The gearbox has four modes and its fastest gear change time is just 100 milliseconds. Performance is exceptional: the C63 AMG Black Series accelerates from a standstill to 62 mph in just 4.2 seconds.

The Mercedes-Benz C63 AMG Coupe Black Series has a standard limited-slip differential. It's electronically controlled and linked to the ESP stability control system, which itself has three settings, in its sportiest one is completely deactivated.
AMG's engineers widened the front and rear tracks by 40 mm and 70 mm respectively, and also fitted stiffer anti-roll bars along with an adjustable coil-over sports suspension. The braking system comprises of 390 mm front and 360 mm rear discs, with six and four-piston calipers respectively.
The Mercedes-Benz C63 AMG Coupe Black Series gains a different front bumper with huge air intakes, bloated wheel arches, chunkier side sills and a redesigned rear bumper with quad exhausts.
The Mercedes-Benz C63 AMG Black Series comes with a two-seat configuration, but Mercedes does offers a four seats as an option.
Sales of the new Mercedes-Benz C6 AMG Coupe Black Series are expected to start in January, with a starting price in Germany of $165,722.