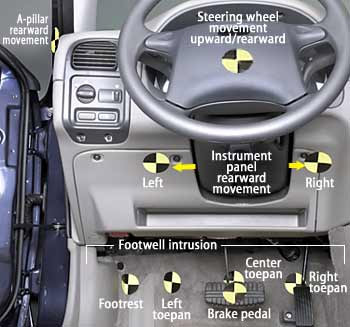 The Insurance Institute for Highway Safety (IIHS) released the results of it latest tests .
The vehicles tested:
2007 Dodge Caliber (small car);
2006 Kia Optima;
2007 Toyota Camry (midsize moderately priced cars);
2006 Lincoln Zephyr (midsize luxury car);
2006 Hyundai Tucson;
2006 Toyota RAV4 (small SUVs).
Front, side, and rear evaluations were conducted for all except the Optima, which was not tested for protection in side impacts. Kia is changing this car to improve its side performance, and the Institute will test it later this year.

"Results show that automakers are moving quickly to improve side impact protection," says Institute president Adrian Lund. "They're responding to our crash test by making side airbags with head protection standard in more models."
Camry is a top performer in the side impact test. The Institute rates the risk of injury separately for the head, neck, torso, pelvis, and legs. Vehicle side structure also is rated. The Camry is good in all of these categories. For the 2007 model year, this car has standard curtain-style side airbags designed to protect people's heads plus separate side airbags to protect the torsos of front-seat occupants.
Caliber improves compared with Neon: The Caliber replaces the Dodge Neon, one of the worst performing small cars in the Institute's front and side tests. The Caliber is rated good overall for frontal crash protection, while the Neon was marginal. The Caliber also is improved in the side test.
Tucson improves too: Another vehicle to improve is the Hyundai Tucson, which also is sold as the Kia Sportage. High forces recorded on the dummy's left leg and right leg and foot kept it from earning a good rating. This vehicle with standard side airbags also is acceptable in the side test.
Lincoln Zephyr isn't competitive: This is the only luxury model tested this time around. It's the only midsize luxury car rated acceptable for frontal crash protection.