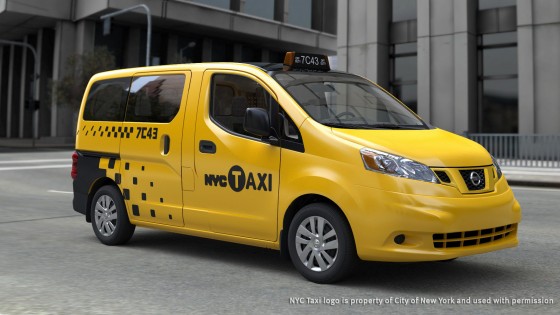 As we know, NYC Taxi and Limousine Commission selected the Nissan NV200 as the exclusive cab of New York for the next 10 years. The public as well as taxi owners will be able to see and feel the Nissan NV200 Taxi in person almost a year before it enters service, at the Nissan Taxi of Tomorrow Design Expo.

"Nissan's NV200 Taxi will be the first taxi in the world to offer new and iconic features developed for, and with, New Yorkers. The Taxi of Tomorrow Design Expo will offer a first look at these one-of-a kind amenities, which include increased legroom, plenty of interior lighting, and materials that reduce odors and germs while supporting sustainability." said Joe Castelli, vice president, Nissan Fleet & Commercial Vehicles.
The Nissan NV200 Taxi minivan is powered by a 2.0-liter 4-cylinder engine and promises to offer "ample room" for four passengers. Among other highlights are a low-annoyance horn with exterior lights to show when it is in use, sliding doors with entry step and grab handles, a transparent roof panel with shade, independently controlled rear air conditioning and a mobile charging station for passengers that comes with a 12V electrical outlet and two USB plugs.