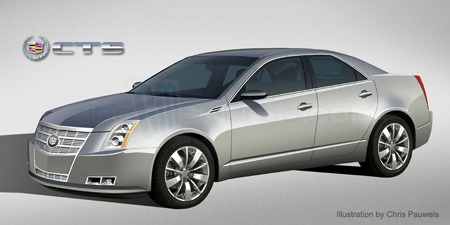 Chris Pauwels has set digital pen to virtual screen to come up with his best guess at what the next CTS will look like when it arrives in the near future.
As you can see on the 2007 GMC CTS, Cadillac will be dipping back into the well with side vents similar to those that we have seen on the all new 2007 Cadillac Escalade. An apparent 2007 Cadillac CTS design that will become standard across its entire line-up of RWD vehicles.
Obviously the all new Cadillac CTS will feature an all-new front and rear facia. What is not pictured is the rear, which we believe the taillights do not crease up and over the trunk as in Hans chop. On this front 3/4th shot by Pauwels one can clearly see the crease that begins on the front fender and makes its way up towards the rear door giving the CTS a nice, athletic stance.