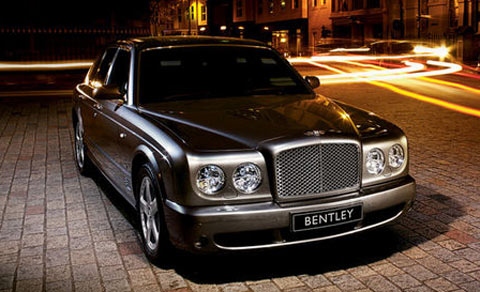 The Bentley announced that the Arnage line will upgraded. The 2007 Arnage T will equipped with an engine with power upgrade to the great thumping beast of a turbo V8, to 500 horsepower, with a new ZF six-speed autobox to improve fuel economy. R and RL models will get a 50 horsepower boost to 450 hp. Also, the new models are getting Bluetooth.
Complete list of 2007 Arnage upgrades:

– Uprated 6.75-litre twin-turbocharged V8 engine in Arnage T produces 500bhp and 1000Nm torque, thanks to new low inertia turbochargers and roller tappet system.
– Arnage R and RL models uprated to 450bhp and 875Nm of torque.
– Latest six-speed ZF automatic transmission with sophisticated locking torque converter provides fast yet ultra-smooth gearshifts.
– New Electronic Stability Programme (ESP) logic system improves dynamic response and handling with less intrusive intervention when a reduction in grip is detected.
– New Tyre Pressure Monitoring System fitted as standard to all Arnage models.
– Improved driver ergonomics thanks to 25mm increase in length of steering column and in vertical steering wheel adjustment.
– Exterior design styling changes includes new dark finish to Arnage T front radiator and bumper grilles, standardised bright chrome finish to R and RL grilles, and Bentley ???B??? badges on the D-pillars.
– Underbonnet styling now features a black crackle finish to the Arnage T???s inlet manifold, embossed Bentley logo on plenum chambers and new ???63/4 LITRE TWIN TURBO??? engine plaques.
– Interior design updates include new hide-trimmed gearlever and chrome gearlever bezel providing access to semi-automatic transmission function.
– New Thin Film Technology driver information panel displays more comprehensive and clearly accessible information.
– Arnage RL model receives additional standard specification including rear centre armrest bottle cooler, veneered rear centre cushion box, rear rSAP master telephone system, and reversing camera (US, EU, Australia and New Zealand markets only).