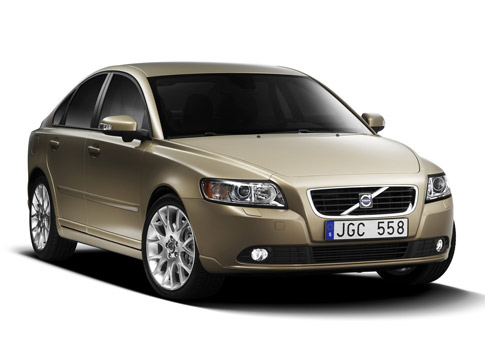 Meet new Volvo's sedan! Swedish carmaker today unveiled the new Volvo S40 sedan, which features a revised interior and exterior. Volvo will offer seven gasoline and three diesel engines. For the 2008 model year, the S40 T5 gets a bump to 230 horsepower ??" a 10 hp increase.
Volvo's gasoline engine line include: 1.6 100 hp, 1.8 125 hp, 1.8F 125 hp (Flexifuel), 2.0 145 hp, 2.4 140 hp, and 2.4i 170 hp. Diesel line include: 1.6D 109 hp, 2.0D 136 hp, and D5 180 hp.
Now optional on the new S40 are Active Bi-Xenon headlamps that swivel the light beam in the direction of the road when the driver turns the steering wheel. Meanwhile, Emergency Brake Lights flash rapidly when the driver stamps hard on the brake pedal.
Volvo's design team concentrated its efforts on two areas: the S40's door sides and the centre stack. The entire lower part of the front door inside panels has been redesigned. The audio system loudspeakers were reshaped to free up space for a new, larger storage compartment with space for an A4 format book, an upright soft drink can or a water bottle lying down.