Look at the first official high resolution images of the new BMW 7-Series sedan. The new 7-Series hides its size well enough and if anything else, the styling is no where near as controversial as the previous 7-Series.
The new BMW's flagship boasts an array of features and systems, including Active Blind Spot Detection, Night Vision with new Pedestrian Detection, Side View and Back-up Cameras, Active Cruise Control with new stop-and-go capability and a new Integral Active Steering, which adds speed-sensitive rear-wheel steering to BMW's front Active Steering system.

The press release refers only to the 750i which is equipped with the recently introduced in the X6, 4.4-liter, twin-turbocharged V8 delivering 400 hp and 450lbs-ft of torque. That's compared to the outgoing 750i's naturally aspirated 360hp 4.8-liter V8 engine. The twin turbocharged V8 is matted to revised 6-speed automatic transmission. According to BMW, the 750i can go from 0 to 100 km/h (62 mph) in just 5.2 seconds – great start for tank!
The 2009 7-Series will make its debut at the Paris Show in October and the U.S. premiere following in November at the Los Angeles International Autoshow. Sales are expected to begin by spring 2009.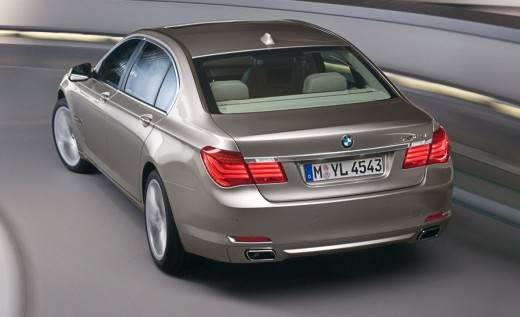 PRESS RELEASE: New milestones of automotive progress are set from time to time: Now, as the new BMW 7 Series approaches its market launch, it is that time again. As the world's most successful purveyor of premium motor vehicles, BMW now presents the 5th generation of its flagship sedan, demonstrating once again how all-encompassing luxury can be combined and harmonized with the pleasures of dynamic performance.
Highlights.
Fifth generation of the BMW 7 Series; a completely new interpretation of style, luxury and driving pleasure. The U.S. market will receive the 750i and, with its wheelbase extended by 140 mm/5.5 in., the 750Li.
The attributes of these vehicles are expressed visually by their design, which radiates a natural presence, inherent sportiness and an elegance born of precision in concept and execution. A whole new generation of V-8 engine with direct injection and twin turbochargers expresses BMW EfficientDynamics at the highest level of performance. Weight-efficient construction and innovative chassis technology contribute to provide the platform for dynamic driving qualities that are unique in the world of luxury automobiles. New, exclusive BMW driver-assistance systems and comfortrelated features further add to the truly exceptional driving and riding experience these automobiles deliver.
An unmistakable look, confident and proud in its character, expresses typical BMW sportiness in its most elegant form. Viewed from various angles, the design is composed of energetic proportions; a graceful silhouette; sculptural surfaces that embody modernism; the large, vertical, yet low-set BMW kidney grilles; and a rear aspect that communicates a wide stance, muscular substance and clarity of line.
Inside the new 7, the theme is consistent with the exterior: an advanced spatial concept with clear organization and delineation of driving-and comfort-oriented functions. The ambiance is luxurious, of transcendent quality and most important of all inviting. Gently contoured lines, high-caliber materials and an enhanced feeling of space add up to a harmonious, expansive and luxurious environment. The driver-oriented control center features Black Panel technology. A console-mounted E-Shift transmission control, new to the 7 Series, is positioned close to the new Driving Dynamics Control, the BMW iDrive controller. More functions than ever are conveniently accessible to the driver from the multi-function steering wheel.
An entirely new generation of BMW's pioneering iDrive presents features and functions in a larger (10.2-in.), high-resolution color display. More intuitive operation is ensured by an optimized menu structure; a new controller enabling function selection and activation via turn, push and tilt motions; direct-select keys; and eight freely programmable Memory Keys. The standard GPS Navigation system is newly enhanced with topography and functionally improved; the audio system gains a hard drive.
An all-new engine powers both models in the U.S. Recently introduced in the X6, it's a 4.4-liter, twin-turbocharged V-8 delivering 400 hp and 450lbs-ft of torque over an amazingly broad rpm range. Fuel efficiency promises to be class-leading too, though official EPA ratings are not yet available. A 6-speed automatic transmission with optimized shifting smoothness and speed, also promotes enhanced fuel efficiency.
All-around weight-efficient construction within the BMW EfficientDynamics concept: extensive use of multi-phase and hot-rolled steels in the body/chassis' load-bearing structures; aluminum roof, doors, hood and front fenders; aluminum front spring towers; aluminum-block engine, aluminum differential housing.
An entirely new suspension system, engineered for dynamic handling and a refined ride. The new 7 is BMW's first passenger car (i.e. not Sports Activity Vehicle) with multi-link double-wishbone front suspension. At the rear, the new Integral V rear suspension also contributes to EfficientDynamics via extensive use of aluminum. On the 750Li, self-leveling air suspension is standard. Rack-and-pinion steering with variable ratio and hydraulic power assist continues, but with a new-type hydraulic pump that delivers assist only when called for, thereby saving fuel. Also new, and a world premiere: Integral Active Steering, which adds speed-sensitive rear-wheel steering to BMW's proven front Active Steering system. This is included in U.S. models' Sport Package.
The suspension system features further development of BMW's Dynamic Damping Control. With standard Driving Dynamics Control, the driver can choose between four settings for shock-absorber firmness, transmission shift characteristics, engine-throttle response, power-steering assist: Comfort, Normal, Sport and Sport Plus. In Sport mode, the default settings can be adjusted by the driver. In Sport Plus, the traction-and-stability system Dynamic Stability Control switches to its Dynamic Traction Control setting (reduced traction intervention), which is suitable for track-style driving. Active Roll Stabilization, BMW's system of reducing body lean in cornering, continues as part of the optional Sport Package.
An array of innovative driver-assistance options that's unique in the luxury segment (asterisk indicates new, or new to 7 Series) Active Cruise Control with new stop-and-go capability; Lane Departure Warning*, Active Blind Spot Detection*, Head-up Display*, High Beam Assistant*, BMW Night Vision with new Pedestrian Detection, Side View* and Back-up Cameras.*
A wide range of comfort functions and innovative entertainment features: audio amenities include new hard-drive music storage, multi-channel amplification and speaker outputs, auxiliary audio input; available 6-disc DVD changer and iPod/USB ports. Further optional or standard luxuries include 4zone climate control with draft-free vents, Active Seat Ventilation, Active Comfort massaging seats, newly enhanced telematics, an innovative new moonroof concept, and a first-ever Integrated Owner's Manual.
Luxury and dynamics harmonize as never before: The new BMW 7 Series.
The new 7 embodies luxury that inspires, driving dynamics that enthuse, and a visual presence that earns universal admiration. It is the product of a self-assured design philosophy and consistent yet ever-evolving engineering artistry. In great measure, this new sedan owes its unique, progressive character to an abundance of innovations whose purpose is to make driving a magnificent automobile as well as riding in it a memorable experience.
At the core of this experience are chassis engineering that sets new international standards and all-new powertrain technology. BMW, which introduced its Active Steering concept in 2004, now brings it to the 7 Series in a new, unique form: Integral Active Steering, encompassing not only the original variable-ratio front steering, but also, new rear-wheel steering. Acting as an overall system, the two capabilities deliver a new combination of handling ease, maneuverability and unrivaled stability in dynamic driving conditions: Integral Active Steering is included in the optional Sport Package.
The new 7 Series introduces Driving Dynamics Control, which enables the driver to select from four progressively sporty driving programs with the touch of a button. Driving Dynamics Control integrates Dynamic Damping Control (which has three-mode shock-absorber control) with transmission shift characteristics, engine response to the accelerator pedal, and steering assist and traction control level.
Active Roll Stabilization another BMW advance in handling and riding comfort, is yet another element of the available Sport Package: Via electro-hydraulically actuated anti-roll bars, ARS reduces body roll or lean in cornering to a minimum, greatly enhancing the feeling of road-hugging handling.
An all-new engine that uniquely combines Efficiency and Dynamics.
Both U.S. models will be powered by an all-new twin-turbo V-8 engine also making its debut in the X6 Sports Activity Coupe. This is a highly advanced, unique and outstanding powerplant. With 4.4 liters of displacement and direct fuel injection (BMW's High Precision Injection), the V-8 carries its two turbochargers in the valley between the two cylinder banks putting its exhaust valves inboard and intake valves outboard a highly unusual layout and a complete departure from its predecessor. This variation from the norm pays off: the engine develops 400 hp over a range from 5500 to 6400 rpm, and a robust 450 lb-ft. of torque over the even broader range of 1750-4500 rpm. Compared to the like-named 750i/Li predecessors 4.8-liter naturally aspirated V-8???s 360 hp and 360 lb-ft., the new engine represents major progress in performance; and though official EPA ratings are not yet in, it is expected to deliver class-leading fuel efficiency as well. To provide some context to this achievement: the previous 7 Series 6.0-liter V-12 develops 438 hp and 444 lbft.
Leading the way again: a new generation of iDrive.
With the new 7, BMW again assumes the role of world leader in automotive control concepts. A 2nd generation of iDrive sets new standards for ergonomics, efficiency and logical functionality with its larger, higher-definition Control Display. New, uniformly structured menus and an optimized control strategy for the display and console-mounted controller are also signature features of the new system.
Other new details include buttons for direct selection of the Radio, CD, Navigation and Telecommunications menus, grouped conveniently next to the controller. Visual assists and consistent flow in the display simplify choices within the individual menus. In the GPS Navigation section, users will benefit from map displays with new standards of size, brilliance, detail and view choice. A ???map preview??? function facilitates selection of the navigation destination from a list; in a new operational logic, letters of the alphabet and numerals are arranged in circular form for more intuitive input of addresses and phone numbers.
For greater driving safety: Active Blind Spot Detection and BMW Night Vision with Pedestrian Detection.
Thanks to innovative driver-assistance systems some of them BMW-exclusive active safety also attains new levels. The new 7 is the first in its segment to offer a Head-up Display, which projects relevant driving information onto the windshield in front of the driver. The HUD is a stand-alone option on U.S. models. Optional Adaptive Cruise Control, with new Stop-and-Go capability, assists the driver in maintaining serene progress in rapid freeway or interstate driving or on country roads; and in dense, stop-and-go traffic, can do precisely that when necessary to maintain a safe following distance.
With the new 7, BMW's newly developed Active Blind Spot Detection makes its debut. Its function is to warn the driver by vibration in the steering wheel plus a blinking LED on the exterior mirror ??? upon initiating a lane change when there is an unseen vehicle in the blind spot or when there is a vehicle not yet in the blind spot-but is closing in at a rate that could result in a collision if the driver changed lanes. Active Blind Spot Detection will be offered together with the Lane Departure Warning, a familiar BMW option but new to the 7 Series. By alerting the driver (also, via a vibrating steering wheel) when a lane change is initiated without the turn signals, the driver is assisted in avoiding potential accidents.
Finally, the High Beam Assist, which automatically dims the headlights for oncoming traffic and returns them to high beams when the way is clear, is included with Active Blind Spot Detection and Lane Departure Warning in the optional Driver Assistance Package for U.S. models. BMW Night Vision continues as an option in the new 7, and adds a new capability: recognizing and indicating individual pedestrians on or near the roadway.
Innovations in climate and entertainment systems plus more space.
The new 7 delivers technological progress in climate control and entertainment systems, plus more space in the cabin to enjoy them. The standard automatic climate control provides for precise adjustment of airflow and temperature, free of drafts or unpleasant air turbulence. Newly standard is 4-zone climate control, with which rear-seat passengers can vary their climate independently on the left and right sides, just as in the front compartment.
And speaking of the rear passenger compartment, the 750Li has a 140mm/5.5-in. longer wheelbase for greater rear leg room; this model also has more rear head room.