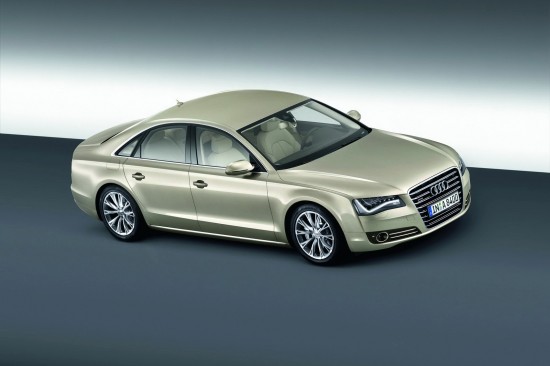 Today Audi will perform the world premiere of its next generation A8 sedan at a special event in Miami.
The new A8 is one of the most elegant and sleek proposals in the luxury sedan segment.

In the interior sans the A4-esque instrument panel, owners of the current generation A8 will feel right at home. The Germans do claim that the cabin has been further improved in terms of quality of workmanship as well as materials.
The new 2011 A8 sedan continues to make use of a lightweight aluminum body. The normal wheelbase A8 measures 5,137 mm in length, 1,949 mm in width and 1,460 mm in height, with a 2,992 mm wheelbase.
When the 2011 A8 arrives in European showrooms in early 2010, it will be available with a choice of two engines, a 4.2 FSI and a 4.2 TDI.
The 4.2-liter V8 petrol makes 372HP, accelerating the A8 from zero to 100 km/h in 5.7 seconds, and on to an electronically governed top speed of 250km/h.
Audi says that in the EU cycle, the petrol version returns a combined 9.5 lt/100 km.
The 4.2-liter V8 TDI diesel produces 350HP. The V8 diesel accelerates the A8 from rest to 100 km/h (62mph) in just 5.5 seconds.
The two V8 engines will be joined by two six-cylinder diesels shortly after the market launch. The first 3.0-liter V6 TDI diesel makes 250HP the A8 from 0 to 100 km/h (62mph) in 6.6 seconds while consuming on average 6.6 liters of fuel per 100 km (36 US mpg).
The second variant of the 3.0-liter V6 TDI produces 204HP and will be offered only as a front wheel drive model. It is said to return an average fuel consumption of 6.0 lt/100 km (39 US mpg).
All engine versions will be equipped with a new 8-speed tiptronic system and quattro permanent all-wheel drive. As an option, Audi will offer a dynamic sport differential, which will be standard on the 4.2 TDI quattro.
In the U.S., the 2011 A8 sedan will go on sale in late 2010 and will be offered at launch exclusively with the 372HP 4.2-liter V8 FSI petrol.