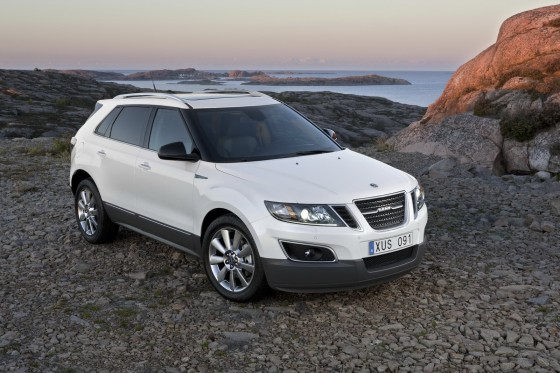 The 2012 Saab 9-4X SUV makes its digital debut ahead of LA Show. The new 9-4X shares its Theta platform and major drive components with the Cadillac SRX, and will be built at GM's factory in Ramos Arizpe, Mexico.
On the outside, changes over the 2008 study concern some minor details such as the smaller front fog light openings, mirror caps, tail lamp color combos and smaller alloy wheels.

The 9-4X SUV will offer buyers two V6 engine choices, a naturally-aspirated 3.0-liter with direct-injection tech producing 265HP, or a 2.8-liter unit with a twin-scroll turbocharger delivering 300HP. Both V6 powerplants are mated to six-speed automatic transmissions under adaptive, electronic control.
The base 265HP V6 is available with front-wheel drive or Saab's XWD all-wheel drive system. With front-wheel drive, it propels the 9-4X from zero to 60 mph in just 7.9 seconds or 8.4 seconds with XWD and is expected to enable estimated city/highway combined fuel consumption of 20 mpg or 19 mpg with XWD.
As for the 300HP V6 which is available exclusively in Aero specification with XWD, It delivers zero to 60 mph [96km/h] acceleration in 7.7 seconds and estimated city/highway combined fuel consumption of 18 mpg. Again, the acceleration figures don't match with Saab's Euro press release saying 0-100 km/h acceleration comes in 8.3 seconds.
The 9-4X is scheduled to arrive in American dealerships in next May, with sales in Europe and other global markets due to begin from August. Prices and more detailed specs will be announced later.