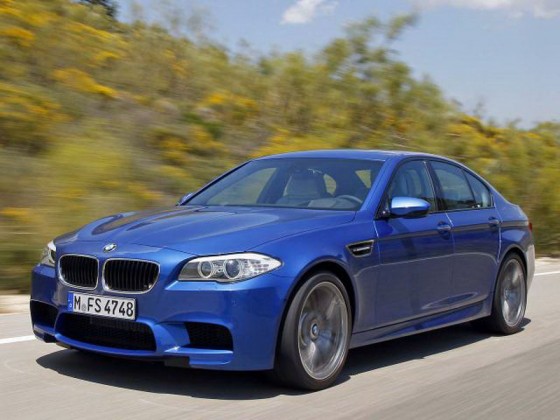 Look at the first official shots of the 2012 BMW M5. The new M5 is based on the latest generation of the 5-Series, the F10, and boasts all the visual cues: namely huge air intakes in the front bumper, side vents in the front wings bearing the M-logo, 20-inch wheels with 265/35 front and 295/30 rear ZR-rated tires, and twin tailpipes at either end of the rear diffuser.

The new BMW's model breaks with tradition by using a twin-turbocharged V8 sourced from the X5 M and X6 M.
Losing two cylinders and gaining two turbochargers seems like a fair trade, though, since the new M5's output is up by 45 hp, from 507 to 552, and, more importantly, maximum torque has risen from 383 to 501 lb-ft.
All this power is directed to the rear wheels via a 7-speed dual-clutch transmission and is then put on the road through M-division's Active M-differential.
The M5 is said to accelerate from 0-62 mph in just 4.4 seconds and to 125 mph in 13 seconds.
Top speed is electronically limited to 250 km/h (155 mph), although the optional M-Drivers Package will raise it to 305 km/h (190 mph).