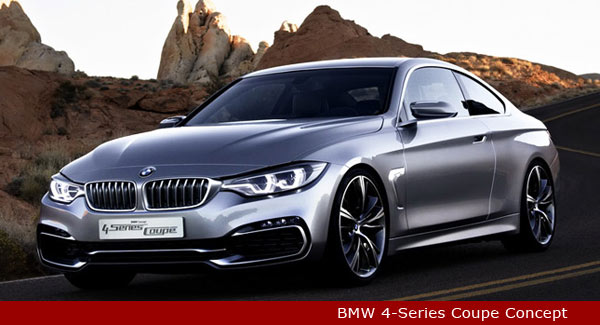 BMW's new 4-Series Coupe Concept officially unveiled. Now you can see the first pictures of the hot concept that will make its debut at the upcoming Detroit Motor Show. The new 4-Series measures 4,641 mm long, 1,826 mm wide and 1,362 mm tall, which means it's longer, broader and lower than the current 3-Series Coupe.

Compared to the old model, it also boasts a 50 mm longer wheelbase that stands at 2,850 mm. Moreover, its 1,545 mm front and 1,593 mm rear tracks are 45 and 80 mm (1.8 and 3.1 inches) wider respectively.
In profile, the 4-Series retains the 3-Series 'double swage line', while the so-called "Air Breather", an aerodynamic aperture behind the front wheels, reduces drag around the wheels – which, in the case of the concept, are 20-inch multi-spoke alloys.
The design of the rear bumper is quite striking, mimicking the three-way split of the front bumper and incorporating the exhaust pipes in each of its outer edges – though it remains to be seen whether this will make it into the production car.
The interior is also production-ready, with the driver-centric dashboard being borrowed straight from the 3-Series Sedan and Touring models. Of course, the doors are longer than the saloon's and their trim panels converge, according to BMW, via the B-pillar into the rear connecting the two passenger compartments.
When the production model is launched it will be powered by the BMW's new TwinPower units, with the range-topping M4 switching from a naturally aspirated V8 to a turbocharged in-line six.