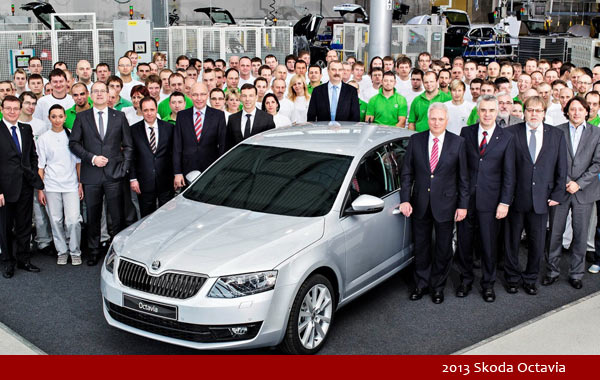 The Czech carmaker starts production of third generation Octavia saloon at its Czech car plant. European sales will start at the end of January 2013. The Octavia is Skoda's bestselling model. Since the nameplate was first introduced in 1996, Skoda has delivered more than 3.7 million Octavia sedans and estates in more than 100 markets around the globe.

The 2013 Octavia is bigger and more spacious yet weighs up to 102 kg less than its predecessor. It offers a wide choice of turbocharged petrol and diesel units ranging from a thrifty 1.6-liter TDI returning 3.4lt/100km to a 1.8-liter TSI rated at 177hp. Next year, Skoda plans to enhance the range with all-wheel drive versions, a sporty Octavia RS and an estate body style.
Skoda stated that with the new Octavia begins the next stage of the "greatest model offensive in its company history" as it plans to launch a new or revised model every six months on average from today to 2015. The VW Group-owned company aims to increase the number of cars sold worldwide to a minimum of 1.5 million per year by 2018.