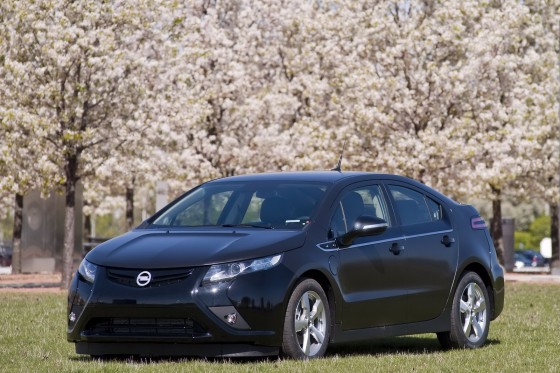 GM has unveiled the first photos of its pre-production 2012 Opel Ampera. Its a European version of the American Chevrolet Volt, which will be assembled at the plant in Warren, Michigan.
As General Motors said, the pre-production cars will not be sold at dealerships, but will be used for testing and validating the production intent design as well as developing the final vehicle software and control.

"We're right on target for producing the Ampera for European markets later next year," said Andrew Farah, Vehicle Chief Engineer for the Ampera. "There's still work to be done, but being able to drive an Opel Ampera off our pre-production line is a great accomplishment for the teams here and in Europe."
The Opel Ampera is the sister car to the Chevrolet Volt sharing the same extended-range electric drivetrain, interior and basic sheet metal, but with some minor unique styling cues.
Like the Chevrolet Volt, Opel Ampera can deliver up to 60 kilometers of pure electric driving before a small displacement petrol engine /generator kicks in to recharge the battery and extend the range to more than 500 kilometers. 2012 Opel Ampera is scheduled to go on sale in Europe by the end of 2011.