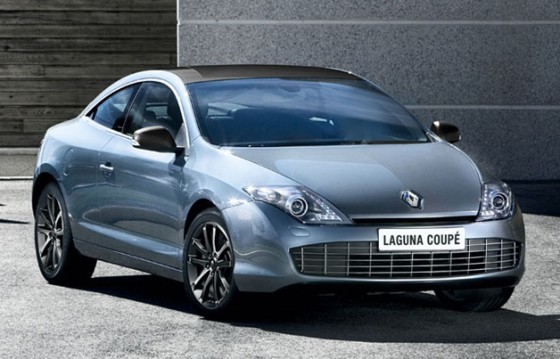 Renault unveiled its facelifted version of the well-known Laguna Coupe. The updated 2012 Laguna Coupe got new LED running lights and 17- or 18-inch alloys and an interior with visible top-stitching on the dashboard. Buyers can choose from the Black Edition, Monaco GP edition, GP 4Control and Initiale trims, and between three gasoline and two diesel engines ranging from 150 to 240 horsepower.

Press-Release
Spotlight on Renault Laguna Coupe 'collection 2012'
New '2012 Collection' launch brings changes to the Laguna Coupe line-up:
– Even racier looks: LED daytime running lights and new alloy wheels.
– A more refined interior: visible dashboard stitching now standard.
– CO2 emissions reduced thanks to the 2.0 Energy dCi 150 engine (Stop&Start, ESM/Energy Smart Management) which emits just 118g/km of CO2. That's a saving of 13 percent and equivalent to fuel consumption of 4.5 litres/100km.
– The new Laguna Coupe line-up will reach Renault showrooms in February. Order books open this week in France, with prices starting from €31,500.
– Laguna Coupe is manufactured at Sandouville, France. It is sold in some 30 countries.
Racier looks and an even more refined interior
Three years after its launch, Laguna Coupe is poised to make news early next year when the 'Collection 2012' versions are due to reach the market. The latest Laguna Coupe was revealed at the Bologna Motor Show in Italy (which runs until December 11) and features a brand new lighting signature with LED daytime running lights now fitted as standard equipment.
New 17-inch diamond-effect alloy wheels are standard from the entry equipment level, too, while the Pearlescent White exterior finish, which contributed to the success of the former limited edition Monaco GP version, can now be specified for the GT 4Control and Initiale equipment levels. Meanwhile, availability of a two-tone livery featuring a Pearlescent Black roof combined with all the catalogue's metallic finishes has been extended to the include the GT 4Control version. More than ever, these new styling appointments highlight the elegance and sportiness of Renault's high-end coupe.
Inside the cabin, the impression of refinement is heightened by the now standard visible dashboard stitching. Mixed TEP/fabric upholsteries are also available for all versions.
Fewer emissions thanks to the new 2.0 Energy dCi 150 engine (118g/km)
Depending on market, Laguna Coupe can be ordered with one of three petrol engines:
– the F4Rt (2.0t), which is available in a choice of two power outputs (170 or 205hp),
and the V6 3.5 240, which is mated to an automatic transmission.
The range also features two diesel engines:
– the M9R (2.0 dCi), available in a choice of three power outputs (150, 175 or 180hp),
and the 240-horsepower V9X (V6 3.0 dCi).
All these diesel engines are available with a diesel particulate filter and comply with Euro5 legislation. They are mated to either a six-speed manual or automatic transmission for a blend of driving enjoyment and sporty performance.
The range includes the diesel 2.0 Energy dCi 150 which boasts such advanced features as Stop&Start and ESM (Energy Smart Management). This hi-tech package has led to a 13 percent saving in CO2 emissions which are now down to 118g/km. The 175 and 180hp versions have also seen their emissions come down by 9g/km and 6g/km respectively thanks to the introduction of ESM for all versions of the M9R engine.